January 16th 2023
Officially authorized SanDisk Nintendo joint microSD memory card photo gallery
In the past two years, more and more players have started to play Switch. With its diverse game modes and rich game menu, it has won the favor of young players. However, the original 32GB capacity of Switch is not enough for many players. Fortunately, the Switch can be connected to an custom external SD card. SanDisk, a well-known storage manufacturer, launched a joint microSD memory card with the Switch. Let's take a look.
For students, we have special offers that will simplify their homework and study at a college, university. Many students turn to one popular essay writing service uk and for good reason, because thanks to this service, essay becomes not just another problem for students, but a real salvation. We highly recommend it, since you yourself turned there for help and received one of the best materials that you can find.
SanDisk mobile microSDXC memory card is suitable for Nintendo Switch. It is a memory card that has been officially authorized by Nintendo. It has three different capacity versions, 64GB, 128GB, 256GB, respectively. The sequential reading speed of the three cards are 100MB/s. The writing speed of the 64GB SD card is 60MB/S, while the writing speed of the128GB and 256GB SD cards can reach 90MB/S.
It is particularly interesting that these three versions of the memory card also have different personalized custom designs in packaging and appearance. Among them, the 64GB version adopts the shape of "The Legend of Zelda: Breath of the Wild" and the 128GB version adopt the cover of "Mario Racing". The 256GB uses the image of Mario IP. These cards will also have a certain collection significance for gamers.
In actual use, an external SD card can provide additional storage space for the Switch. The loading speed is fast, and the game experience is guaranteed. You can get a pleasant game experience while upgrading the game library.
Since it is a Nintendo officially authorized memory card, there is no need to worry about compatibility issues. At the same time, SanDisk also provides a lifetime warranty.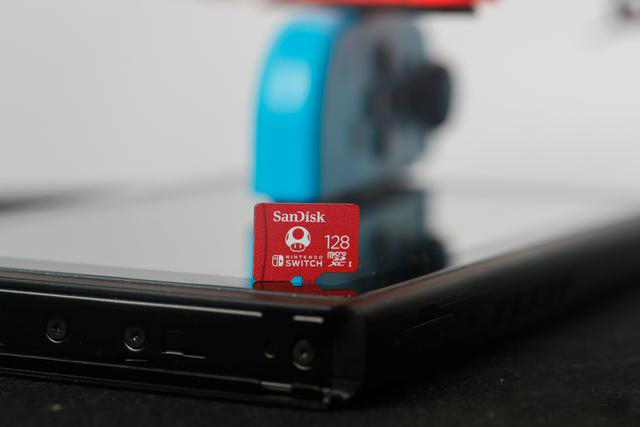 In addition to expanding Swich's game space and fast game loading speed, as a memory card, it of course can also store or continuously record, so, it can be used in mobile phones, driving recorders and other devices. The memory card supports full HD video, 4K HD video, and UHS 3 level video recording. It is waterproof, cold and heat resistant, impact resistant, X-ray resistant, etc. The card can be applied in many more scenarios.
Due to the small storage space of the Switch, most players will use an external memory card. This SanDisk Nintendo joint microSD memory card is officially certified as an external storage device. It is definitely guaranteed in terms of performance and reliability. A variety of different sizes and customized color matching design is very flattering as well. Its excellent performance can be compatible with different application scenarios. Since it has a lifetime warranty, it also saves players to worry about quality.
The 128G microSD card can be so powerful!
Micro SD Card is something we need for external storage
Get right bulk Micro SD Cards for Dashcam