January 15th 2023
Tips for how to choose the most suitable brand SD card in 2020
Although SD cards are barely used in current mobile phones, this does not prevent SD cards from being used as standard equipment in digital cameras and DVs. Toshiba, SanDisk, Transcend and other manufacturers SD cards are constantly being updated. From the affordable 32GB type to the large storage 128GB type, you have generally large range of cards to choose from. Which one is most suitable for you?
This time, I will talk about SD cards with you, and I bring a few SD cards to give recommendation. In addition to the cost-effective SD card with large capacity and handsome price, there are also high-end models with the world's top class speed.
Contents
How to choose SD card
Top Ten SD Cards Recommendation
Matters Need Attention when using SD card
Summary
How to choose SD card
We first declare that all the SD card purchasing tips we introduce today are for standard SD cards used in digital cameras, DV and other devices!
Check the SD card capacity first, consider its compatibility
SD cards are roughly divided into 3 types: SD card, SDHC card, and SDXC card. Some memory cards may be dysfunctional if the device does not support it. Therefore, you must check the memory card type marked on the card slot before you make purchase.
The maximum capacities for SD cards vary with their types. Generally speaking, a small capacity 4GB SD card can store about 500 to 1000 static images or about 30 minutes of FHD video. You may make your purchase base on this standard.
SD card: up to 2GB
This is the minimum specification of memory card. It is suitable for saving photos. Due to its versatility, it is also compatible with older equipment. The price is relatively cheap. Also, it is very suitable for saving data directly after taking photos, just it off and replace it with a new memory card.
SDHC card: 4 to 32 GB
This is a medium-sized memory card. It has a larger capacity than an SD card and is suitable for taking a large number of photos at one time, such as travel and weddings. Since videos take up more space than photos, SDHC cards are more recommended when shooting high-resolution FHD videos.
SDXC card: 64 GB and more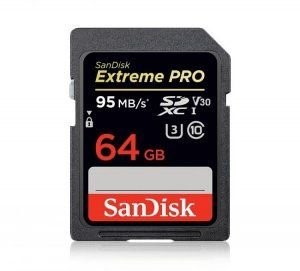 This is an advanced specification memory card. Among all the memory cards, it has the largest capacity and is recommended for long-term video shooting and high-resolution photo shooting. If the frequency of photography is not high and you just simply need to record daily life, there is no need to buy expensive professional-grade memory card like this.
How to choose the transmission speed? Make your choice according to your purpose
When a memory card is used for video shooting, digital camera continuous shooting, etc., the transmission speed is very important. Video shooting requires a memory card with a stable and sufficient speed to write shooting data frame by frame. If the transmission speed is too slow, it may cause errors such as writing lag and recording interruption.
In addition, using a memory card whose writing speed is too low will reduce the maximum continuous shooting number of the digital camera, and the waiting time after shooting will become longer. It also affects the time it takes to copy camera shooting data to a computer.
Speed class? Choose the largest Class10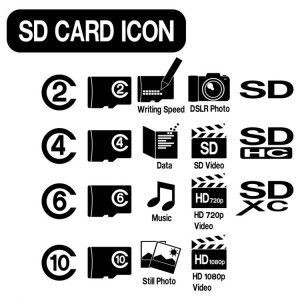 On the performance mark of the SD card, numbers like 2, 4, 6, 10 and so on are written on the mark similar to the letter C. This is the speed class. The higher the number, the faster the data is transmitted. The minimum write speed values are as follows:
Class2:2MB/second
Class4:4MB/second
Class6:6MB/second
Class10:10MB/second
If you are not sure about it, just choose the most common Class10. For continuous shooting and video that requires speed, the memory card should at least reach Class10 standard.
Pursuing Faster Speed, Identify the U3 Logo
UHS Speed Class is a specification developed for SDHC and SDXC memory cards. Used with devices that support UHS interface, it can improve the reading and writing speed and realize professional-level ultra-high-quality photograph and video.
The UHS speed class includes two specifications – UHS-I and UHS-II. II is faster than I. The minimum transmission speed can be judged by the number marked in the middle of the U-shaped symbol on the SD card performance mark.
The number 1 or 3 is written at the center of the U symbol. It indicates the minimum transfer speed when the memory card is used for UHS-enabled devices:
U1:10MB/second
U3:30MB/second
Whichever you choose, it should adapt to the interface. If the device you are using does not support UHS, then the four speed classes Class 2, 4, 6, and 10 mentioned earlier should apply.
Do you need Wi-Fi connection
Some SD memory cards have built-in Wi-Fi functions, such as "Eye-Fi" and "FlashAir". You can use this type of memory card on digital cameras to transfer photos and videos without connecting to a computer. It also supports uploading to web albums, photo sharing websites, etc., or transferring to iPad, iPhone, Android devices, and sharing photos in the camera on the spot.
However, the memory card with Wi-Fi function is inferior in terms of capacity and specifications as a whole, so it will not be introduced in this recommendation part.
Top Ten SD Cards Recommendation
After reading the purchase points, than I will bring the ten popular SD card recommendations. See if there is a memory card that matches your needs!
10. SanDisk / SanDisk Extreme High Speed SD Memory Card / 16GB
Price: 4.5$
Entry-level price, suitable for small data transmission
Although this SanDisk SD card is inexpensive, its configuration is pretty cool. The reading speed reaches 80MB/s. It supports Class10 speed grade, and supports FHD video shooting and playback in cameras. At the same time, it also has excellent durability, which can resist the influence of the -40 ℃ ~ 85 ℃ temperature environment on the data. The warranty period is even longer than 10 years, which maximumly protects customers' rights.
Although the 16GB capacity is not high, it will be a good choice if you bought it when you forgot to bring a memory card temporarily or use it as a spare memory card for emergencies.
| | |
| --- | --- |
| Memory Capacity | 16GB |
| Speed Class | C10 |
| Writing Speed | 10MB/s minimum |
| Reading Speed | 80MB/s maximum |
9. Kingston / Kingston High Speed Upgrade SD Memory Card / 32G
Price: 6.8$
Standard capacity, suitable for daily shooting
This SD card comes from Kingston a brand which everyone is familiar with. It meets the UHS-I Class10 specification, and the reading speed also reaches 80MB/s, which is sufficient to support the high-speed photography and FHD video recording requirements of photographic equipment. It also has good water resistance, temperature resistance, shock resistance and shock resistance. It can even withstands the test of X-ray inspection. It sure has the ability to protect data.
For general digital camera applications, a 32GB capacity is totally enough.
| | |
| --- | --- |
| Memory Capacity | 32G |
| Speed Class | C10 |
| Writing Speed | 10MB/s minimum |
| Reading Speed | 80MB/s maximum |
8. SanDisk / SanDisk Extreme Speed SD Memory Card / 32GB
Price: 13.9$
Can recover after deleted by mistake, no need to worry about mistakes
At first glance, this 32GB memory card seems expensive, but if you look at all the parameters, you can see that it is worth the money! The reading speed can go up to 95MB/s, and the writing speed achieves an astonishing 90MB/s. This means that it can be used in high-speed continuous shooting, 4K video digital cameras, making full use of the camera's performance.
In addition to the speed advantage, it also has strong durability and is equipped with unique RescuePRO software, which can recover accidentally deleted files on the memory card, which is a great news for people who are likely to delete by mistake.
| | |
| --- | --- |
| Memory Capacity | 32G |
| Speed Class | V30 |
| Writing Speed | 90MB/s maximum |
| Reading Speed | 95MB/s maximum |
7. Toshiba / TOSHIBA N203 USH-Ⅰ SD memory card / 64GB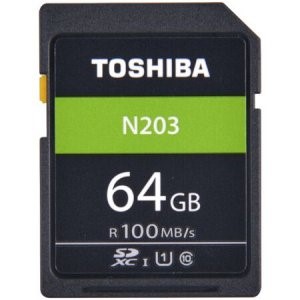 Price: 10.9$
100MB/s high-speed reading, the king of speed within 14.9$
It can always be faster. The reading speed of Toshiba's SD memory card is even faster, reaching 100MB/s. In addition to Full HD high resolution continuous shooting and image recording, this will undoubtedly be of great help to video playback and shorten the waiting time after shooting.
It also has excellent cold and heat resistance and X-ray resistance. It also has 5 years of nation-wide guarantee. Of course, according to the logo on the card, this is still a Class10 speed class memory card. The minimum writing speed of 10MB/s may be a hindrance, but it is still very cost effective.
| | |
| --- | --- |
| Memory Capacity | 64GB |
| Speed Class | U1 |
| Writing Speed | 10MB/s minimum |
| Reading Speed | 100MB/s maxium |
6. Kingston / Kingston Speed SD Memory Card / 64GB
Price: 20.9$
Stability, capacity, and speed are all moderate
This 64GB SD card not only meets the Class 10 UHS-I U3 standard, but also meets the new V30 and A1 specifications, which can fully support the shooting needs of high-end equipment such as 4K cameras and SD card-compatible drones. As a hundred-yuan level SD card, its stability, capacity, and writing and reading speed are all enough to meet the standards for shooting. It is very cost effextive.
The reading speed is 100MB/s and the writing speed is 80MB/s. It is waterproof, temperature resistant, shock/vibration resistant, and airport X-ray resistant. It can provide stable and smooth data reading and writing support for the device in various environments.
| | |
| --- | --- |
| Memory Capacity | 64GB |
| Speed Class | U3 |
| Writing Speed | 80MB/s maximum |
| Reading Speed | 100MB/s maximum |
5. SanDisk Extreme Speed SD Memory Card / 64GB
Price:19.9$
U3 cost-effective choice
Judging from the parameter configuration, it is almost the same as the last Kingston's Extreme Speed SD memory card. Although the writing and reading speeds are slightly different, they can also support continuous shooting, 4K video and other use scenarios, and the price is not much different.
But don't forget, SanDisc is a major SD card producer, that is why this card can have the function of accidental deletion and repair at this price level. It only needs to cooperate with RescuePro Deluxe software. Among the 15$ level U3 SD card, its performance is quite attractive.
| | |
| --- | --- |
| Memory Capacity | 64GB |
| Speed Class | V30 |
| Writing Speed | 60MB/s maximum |
| Reading Speed | 150MB/s maximum |
4. SanDisk Extreme Speed SD Memory Card / 256GB
Price: 88.9
Largest capacity in the list! Choose it to satisfy mass shooting
Taking the post-editing into account, professional photographers often save pictures in RAW + JPEG format. A photo could take up almost 30M of space, and 1G storage can be used up quickly. Especially during event like travel, parties, weddings, etc. that need a lot of shooting or recording videos, the capacity of the SD card can never be enough. At this time, I recommend this 256GB SD card, which can let you film freely without worrying about the capacity.
Although the stored data is huge, at a 170MB/s reading speed, transferring data does not consume additional time. The 90MB/s writing speed is also enough to ensure the smooth shooting of 4K video. Although it is a little expensive, it can avoid the regret of "want to shoot but could not"!
| | |
| --- | --- |
| Memory Capacity | 256GB |
| Speed Class | V30 |
| Writing Speed | 90MB/s maximum |
| Reading Speed | 170MB/s maximum |
3. SanDisk Extreme Speed UHS-II SD Memory Card / 32G
Price: 46.9$
Top speed in the list! The ideal companion for professional photographers
Its maximum writing speed of 260MB/s makes its professionalism self-evident. It can be used in shooting full HD video and lossless cinema-grade 4K video without dropping frames. It is especially recommended for shooting extreme sports and high-speed subjects. With a reading speed of up to 300MB/s, the post-production efficiency can be greatly improved.
However, as the SD card with the highest speed in the list, its price is relatively high too, it is sold for nearly 300 yuan for a capacity of 32G. If you need to shoot frequently, a higher capacity SD card will cost even more, so this SD card is more suitable for professional photographers.
| | |
| --- | --- |
| Memory Capacity | 32GB |
| Speed Class | U3 |
| Writing Speed | 260MB/s maximum |
| Reading Speed | 300MB/s maximum |
2. Lexar / Lexar High Speed SD Memory Card / 128GB
Price: 51.9$
Good balance of super high speed and large capacity
This type of SD card supports UHS-II ultra-high-speed interface, with reading speed up to 250MB/s, can smoothly capture and playback 4K movies, take high-quality photos, greatly reducing data transmission time. The writing speed is also as high as 90MB/s, which makes the camera operate smoothly without delay and capture inspiration at any time. With a capacity of 128G, it can even be used in continuous recording of high-definition video.
For friends using professional photography cameras, this is definitely a memory card worth buying. After all, smooth operation and stable data reading are the guarantee of successful creation.
| | |
| --- | --- |
| Memory Capacity | 128GB |
| Speed Class | V60 |
| Writing Speed | 90MB/s maximum |
| Reading Speed | 250MB/s maximum |
1. SanDisk / SanDisk Extreme High Speed SD Memory Card / 64GB
Price: 13.9
SD card industry's golden brand! King of cost-effectiveness within 15$
Amateur photography enthusiasts may not have a strong demand for high-speed continuous shooting and 4K video recording. Instead, they need smooth and stable speeds, sufficient capacity, and affordable prices. The SanDisk 64GB SD card recommended here just meets all these requirements. The reading speed of 80MB/s is sufficient to transfer pictures and videos in general format, and the Class10 speed grade can also provide good support for regular shooting and 1080p video recording.
Of course, it also has functions such as waterproof, cold and heat resistance, X-ray resistance, impact resistance and other protective properties. And as a classic brand trusted by professional photographers, SanDisk's quality assurance and after-sales convenience can also be reassuring. If you need a durable SD memory card with stable reading and writing, then choose this one ,it is just enough!
| | |
| --- | --- |
| Memory Capacity | 64GB |
| Speed Class | C10 |
| Writing Speed | 10MB/s minimum |
| Reading Speed | 80MB/s maximum |
Matters Need Attention when using SD card
The SD card is thin and light, easy to carry, and there are a few things to note when using it.
Easily damaged, don't carry it out without protection
The SD card is protected by a plastic case, which is easily broken and damaged. Never carry it directly in your pocket. To prevent damage to the memory card, put it in a case to protect it when you carry it.
Failure, formatting may cause storage content disappear
The data stored on the SD card is not suitable for long-term storage. Since the data is recorded by energizing the semiconductor molecules, the data may disappear if the card is not used for a long time.
In addition, the SD card may need to be formatted when the computer cannot read it. Although the SD card is lightweight, it also has the above risks. Therefore, it is recommended to back up important data in a computer or other storage device.
Summary
After reading the introduction of the SD card above, did you get some small knowledge for purchasing SD card? I emphasis again, when buying SD card, you not only need to pay attention on capacity and price, but also need to compare stability, reading and writing speed, the convenience of the warranty and other factors, in order to fully realize the potential of the device, and capture every moment in your life.
Related knowledge of SD card shooting video
How to get satisfied bulk Micro SD Card and SD Card?
Get knowledges for SDHC and SDXC Card