January 15th 2023
SD SDHC SDXC are all bulk SD cards
SD card that is small in size SD, SDHC, and SDXC are all SD cards, they are all compact in size.
Contents
1Product introduction
1. SD card 2. miniSD 3 MicroSD 4. T-Flash card 5. SDHC (high capacity SD card) 6. SDXC (ultra high capacity SD card)
SD card series (Secure Digital)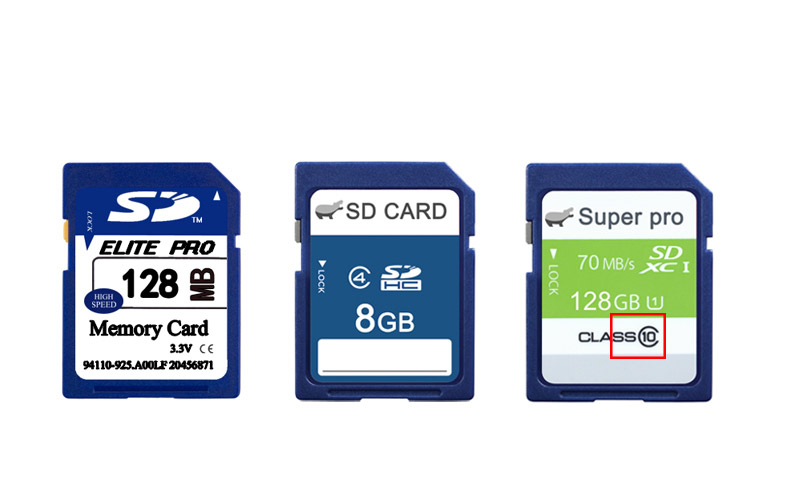 1.SD card
SD card is the abbreviation for Secure Digital card. Literally, this card is a security card. It performs better than CF card and early SM card in terms of security. It is a brand-new memory card product jointly developed by Japan's Panasonic Corporation, Toshiba Corporation and SanDisk Corporation. Its biggest feature is that it can safely protect data through encryption function. In many ways, SD cards can be seen as an upgrade of MMC. Their appearance and working mode are the same, except that MMC card is slightly thinner. All machines that support SD card device can support MMC card. Its dimensions are 32mm×24mm×2.1mm.
2.miniSD
The SD card is slightly bloated for small digital products such as mobile phones. At the same time, in order to catch up with Duo and Xd, the SD card series released a smaller memory card called "miniSD". Its dimensions are 20mm×21.5mm×1.4mm, the package area is 44% of the original SD card, the volume is 63% of the original SD card, and it has 11 golden fingers (SD card only has 9). It can also be used as an SD card through an adapter card. The card is widely used in mobile phones such as Dopod and Panasonic.
3.microSD
MicroSD card standard was formulated by the SD Association in 2005 with reference to the relevant standards of T-Flash. T-Flash card and microSD card are compatible with each other. Compared with miniSD card, microSD card is smaller in size, with dimensions of 11mm×15mm×1mm, which is only about a quarter of the standard SD card, and is the smallest memory card in the market.
4.T-Flash card
Its full name is TransFLash, and is jointly developed by Motorola and SANDISK in 2004. It is an ultra-small card (11*15*1MM), which is about 1/4 of the SD card, and is currently the smallest memory card. TF card can be used as SD card with an SD card converter. With a proper adapter, it can be used on devices that use SD as storage medium. TransFlash was primarily developed for camera phones to capture large images and save larger video clips. TransFlash cards can be used to store personal data, such as digital photos, MP3s, games, mobile applications and personal data, etc., it has also embedded a copyright protection management system to protect downloaded music, images and games. The new TransFlash models to be launched in the future also have encryption function to protect personal data, financial records and health and medical documents. The compact size of TransFlash allows manufacturers to adopt this design without worrying about the size of the phone, and TransFlash's another flexible application is that suppliers can make replacements at any time according to customer needs before delivery, which is an advantage that embedded flash memory does not have.
Detailed description:
The card's size is approximately equal to half of an SIM card, with a built-in copyright protection management system, suitable for many multimedia applications.
After matching with an adapter, it can be used on digital products with SD card slot.
Size: 11mm*15mm*1mm.
SDHC
5. SDHC (high capacity SD card)
SDHC is the abbreviation of "Secure Digital High Capacity". In May 2006, SD Association released the latest version of the SD 2.0 system specification, which stipulates that SDHC is an SD card that complies with the new specification and has a capacity greater than 2GB and less than or equal to 32GB. The biggest feature of SDHC is its high capacity (2GB-32GB). In addition, the SD Association stipulates that SDHC must use the FAT32 file system. This is because the FAT16 file system previously used in SD cards supports a maximum capacity of 2GB, which does not meet the requirements of SDHC. As the successor of the SD card, the main feature of SDHC is that the file format has been upgraded from the previous FAT12 and FAT16 to FAT32, and it supports up to 32GB capacity. At the same time, the transmission speed is redefined as Class2 (2MB/sec), Class4 (4MB/sec), Class6 (6MB/sec), etc. High-speed SD card can support real-time storage of high-resolution video recording. The external size of SDHC card is 32×24×2.1mm (length × width × height). Like SD card, copyright protection functions are the same as before. However, since the file system has changed, SD devices that previously only support FAT12/16 format may not be compatible, but it supports FAT32 (SDHC) machines, which can read the existing SD cards in FAT12/16 format. All SD cards with a capacity greater than 2G must comply with the SDHC specification. The specification states that the SDHC must at least meet the Class 2 speed rating, and there must be an SDHC logo and a speed rating logo on the card. There are some brands on the market who provide 4GB or higher capacity SD cards that do not meet the above conditions. For example, some products lack SDHC logo or speed class logo. These memory cards cannot be called SDHC cards. Strictly speaking, they are not approved by the SD Association. These types of cards may have compatibility problems with the device when they are used.
SDXC
6. SDXC (large capacity SD card)
The SD Association demonstrated a 2TB SDXC memory card (SD eXtended Capacity) at CES 2009. SDXC not only has large capacity, but also have good data transmission speed. According to the introduction, its expected maximum transmission speed can reach 300MB/s. With a large-capacity memory card, people who used to use NDS card, memory stick or other devices can use SD card instead, but its data security performance is temporarily unclear. This SDXC memory card uses NAND flash memory chips and Microsoft's exFAT file system (vista's new file system).
(1) The current maximum capacity of SDXC memory cards can reach 64GB. The theoretical capacity is 2TB.
(2) Support UHS 104, a new ultra high speed SD interface specification. The highest standard of the new SD memory card standard Ver.3.00 can achieve a bus transfer speed of 104MB per second on the SD interface. Thus it can achieve a maximum writing speed of 35MB per second and a maximum reading speed of 60MB per second.
(3) UHS104 provides traditional SD interface – 3.3V DS (25MHz)/HS (50MHz). The new SDHC memory card that supports UHS104 is compatible with existing SDHC corresponding equipment.
(4) SDXC memory cards are only compatible with SDXC corresponding devices with exFAT file system. It cannot be used for SD or SDHC corresponding devices.
(5) Adopt the most reliable CPRM copyright protection technology.
(6) UHS104 is a new ultra high speed interface specification. Its data bus transfer rate is 104MB per second. This is the highest standard in the new SD memory card standard Ver.3.00.
(7) SDXC memory card is the next-generation SD memory card standard defined by the SD Association in April 2009, to meets the growing demand for large capacity storage media and provides faster data transfer rates for rich storage applications. Compared with SDHC memory card standard that provides 4GB to 32GB capacity, the new SDXC memory card standard can achieve a capacity that exceeds 32GB, the maximum capacity can reach up to 2TB (TB: terabyte, trillion bytes, 1TB=1024GB).
various adapters
SD-SATA