Micron has started mass production of the world's first 176-layer NAND, how will the market react?
Nand-flash memory has the advantages of large capacity and fast rewriting speed. It is suitable for the storage of large amounts of data. Therefore, it has been more and more widely used in the industry. For example, embedded products include SD card, micro sd card 、memory cards, and Custom USB flash drive and so on.
Micron announced on November 9 that it has begun mass production of the world's first 176-layer 3D NAND Flash. Compared with the previous generation of 128-layer 3D NAND technology, the read latency and write latency are improved by more than 35%. Based on the ONFI interface protocol specification, the maximum data transmission rate is 1600 MT/s, improved by more than 33%, and the performance of mixed workloads is improved by 15%. The compact design reduces the die size by about 30%, and each wafer will produce more GBs of capacity for NAND Flash.
Source: Micron

Micron's new 176-layer 3D NAND has been mass produced at its Singapore plant and the samples has been sent to customers through its Crucial consumer SSD product line. In 2021, it will launch new products based on this technology. Micron targets at the increasing opportunity of 5G, AI, cloud and intelligence edge area, and can meet the growing storage needs from mobile, automotive, client end and data center sectors.
How's the progress of other factory's 3D NAND?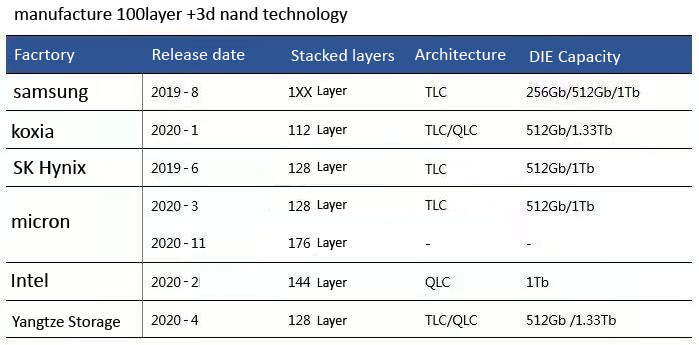 Source: elinfor.com
Samsung
The mass production of the sixth-generation (1xx layer) TLC V-NAND has started in August 2019, and SSDs facing consumer 980 PRO or PM9A3 series for data centers were launched based on this technology. In order to improve market competitiveness, Samsung is accelerating the R&D of its seventh generation V-NAND (above 160 layers), and it is expected to start production in the new Pyeongtaek NAND production line in the second half of 2021 to meet the growing demand from data centers and smart phone storage .
Kioxia/Western Digital
In 2019, the single die capacity of its product that based on the 96-layer QLC has reached 1.33Tb capacity. The fifth-generation 3D NAND technology launched in early 2020 uses 112-layer stacked BiCS5. The first product that has been mass produced is the 512Gb TLC product, and has already been sold to consumer products. The QLC single Die capacity will reach 1.33Tb.
SK Hynix
The 96-layer QLC 4D NAND sample sent in May 2019 has a single Die capacity of 1Tb. In the following month of the same year, a 128-layer 4D TLC NAND was launched. In the second half of 2020, enterprise-grade PE8111 series SSD samples of this new technology was sent, and has a capacity of 16TB. The company also plans to develop 32TB capacity enterprise SSD in the future.
In addition, SK Hynix has begun to sell 128-layer NAND Flash products in the third quarter of 2020 to respond to the stable mobile demand in the market. It is expected that the supply will continue to increase in the fourth quarter.
 Intel
Intel has successfully developed a 144-layer stacked QLC flash memory, its capacity has grown by about 50% compared with the previous 96-layer QLC. The company planned to put it into production before the end of 2020, and will launch consumer and enterprise SSDs based on this new technology.
 Although SK Hynix has acquired Intel's NAND business, including the 3D NAND plant in Dalian, China. But Intel will continue to operate on the Dalian plant and manufacture designing technology until 2025. Ir is expected to expand two to three generations after the current 144-layer phase.
Yangtze Storage
The 128-layer QLC 3D NAND (model: X2-6070) that was released in the first half of 2020 has a 1.6Gb/s high-speed reading and writing performance. It also has a 1.33Tb single Die capacity, and has been verified on terminal storage products from many controller manufacturers such as SSDs. At the same time, YMTC also released 128-layer 512Gb TLC 3D NAND (model: X2-9060) to meet the needs in different application scenarios.
3D NAND technology has entered the competition in layers above 100, how will the market react?
3D NAND technology is the core competitiveness, and the competition between manufacturers has never stopped. In 2020, the main supply of original 3D NAND is still the 96-layer type, and the output of 128-layer 3D NAND continues to increase. At the same time, Samsung, SK Hynix and other manufacturers are actively devoting themselves into consumer and enterprise SSD applications.
With the development of 3D NAND technology, Samsung, Kioxia, Western Digital, Micron and SK Hynix's 3D NAND technology have all developed to 128 layers level, and the new Flash manufacturer Yangtze Memory has followed up and also released a 128-layer TLC/QLC. Now that since Micron become the first to launch the world's first 176-layer 3D NAND, it has made the technology competition between the manufacturers more intense.
With the increase in the number of 3D NAND stacking layers, 3D NAND technology has gone through several stacking stages such as 24 layers, 48 layers, 64 layers, 96 layers, and 128 layers. The capacity of a single NAND Flash Die has also grown to 1Tb, and since now it has entered the phase with more 100 layers stacking, the supply of NAND Flash will increase further.
Data source: elinfor.com
When looking at the NAND Flash market, the price in the past two years has went through many ups and downs. Not only experienced the cold winter of 2019, but also suffered a severe impact from the COVID-19 in 2020, resulting in a sharp decline in mobile phone market demand. In addition, market demand in the data center field has dropped in the second half of 2020. Storage companies in the industry chain are trying to move forward with heavy burdens. Now the overseas "epidemic" strikes again, storage industry is once again in trouble in the fourth quarter.
Driven by the continuous upgrading of original 3D NAND technology, NAND Flash production capacity will inevitably increase. Undoubtfully, there is pressure on short-term market prices, when market demand in the storage industry is sluggish. However, from the perspective of industrial development, the upgrading of NAND Flash technology will also stimulate the performance improvement of mainstream products such as eMMC, UFS, SSD. The capacity will increase and will bring more innovation opportunities.
Jhone Frank Recommended articles at 2022-06-26
How to Unlock Protection on an SD Card
Difference between USB 2.0 and USB 3.0
How is the production process for MICRO SD Card by Wafers?
How to choose CF, SD and Micro SD cards: this article will teach you how to buy a satisfactory memory card.
The new generation of Micro SD card will be UFS card?
Physical diagram of USB3.0 data cable wiring
How to Recover a Micro SD Password
How to get suitable Micro SD Card for your Electronic Gadgets