January 15th 2023
Storage Devices —Dual Interface USB Flash in Classic Tiffany Blue, Providing Convenience and Quality Life for You
Nowadays, people are all familiar with bulk USB Flash drive and view it as a good tool to carry with to transfer and copy files. As far as I am concerned, small and smart USB Flash drive is one storage device I use most frequently. Meanwhile, I am very picky in choosing a USB Flash drive; when I tend to choose a dual-interface USB Flash drive so that it can be used on a PC and an Android phone at the same and do the transferring task, which is very convenient. In line with my habit of picking a new storage devices with doubled capacity, this time I chose the the SanDisk Extreme High Speed™ Cool Soft custom Type-C USB Flash drive with 128G memory.
Its packaging is common—the fully enclosed card-type plastic seal avoids the possibility of return or exchange.
On the back of packaging, it read that these SanDisk Extreme High Speed™ Cool Type-C USB Flash drives are produced in Malaysia and provide anti-counterfeiting query code.
New Color Scheme for New Lifestyle
Tiffany blue—the most beautiful color, became famous in the movie called "Tiffany's Breakfast". It is a color between blue and green and has its special color number, Pantone 1837. Tired of a lot of digital products in black and metallic colors, I has a refreshing feeling and relieve a lot at the sight of this product in Tiffany blue color.
In order to prove what I said just now, I will compare this cool Type-C series USB Flash drive with a bunch of various portable storage adapters and other accessories in business colors. And the result is obvious that it is indeed the impressive one. Moreover, the physical product is also quite exquisite and look even better than the official pictures according to my family. Such reaction also proves that the girl has no resistance on the Tiffany blue, a color close to the light and bright color of macarons. And it can be hung on the small bag, due to the protective cover of the key-carrying port.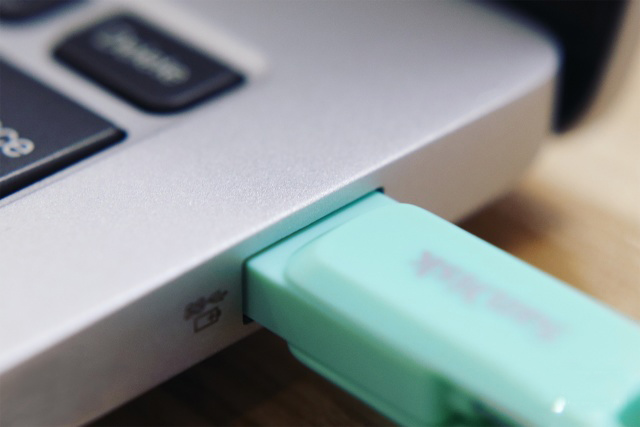 It is small in size and its shell is made of plastic material with pleasant edge R angle design, which is rather different to other common USB Flash drives, whose plastic body is extended to serve as a Type-A USB port. Actually, I extremely like the plastic frame of its Type-A USB port, now that most laptops are with all-metal fuselages, making it easy to be scratched by the USB Flash drive of the traditional metal USB port. What' worse, metal USB Flash drives and some digital products in the bag may sometimes collide and scratch their surfaces, while plastic ones are devoid of such problem. And there are differences in plastic materials: the harder plastic material for the outer protective cover printed with SanDisk, and the relatively soft material for inner plastic of the Type-A port. Such differences can make sure USB Flash drive can be used in other standard USB ports with slight design tolerances.
On the back of the SanDisk Cool Soft Type-C USB Flash drive are printed with capacity, location, and serial number.
What' worse, the wear and tear of the all-metal U disk in the use will great affect the experience of users and make them take the hassle to put USB flash and other digital products separately in case of scratch.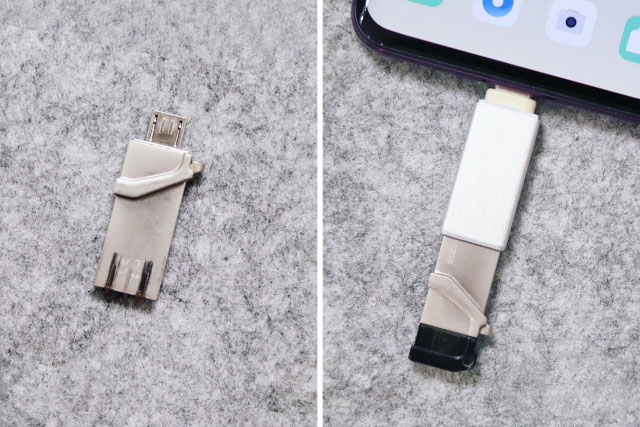 Dual Interface Making USB Flash drive Convenient for Transmission
With the aim to realize large file transferring between computers and mobile phones under the condition of some inconvenient wireless transfers, I picked up Micro USB and Type-A USB dual-port USB Flash drive. But now computers and mobile phones have been updated, and Micro USB ports have thus become outdated. Thereby I bought a Type-C adapter. Usually, I will carry the USB Flash drive with an adapter with me, but I still can not avoid the embarrassment where I was unable to find the adapter when I need it several times. So, to avoid such embarrassment, I chose this SanDisk CoolSoft Type-C USB Flash drive.
One of the reasons I chose it was that it was a dual-port USB Flash drive and users only need to rotate the protective cover to see another interface that supports Type-C. such design makes it easy to transfer large files between the laptop and mobile phone.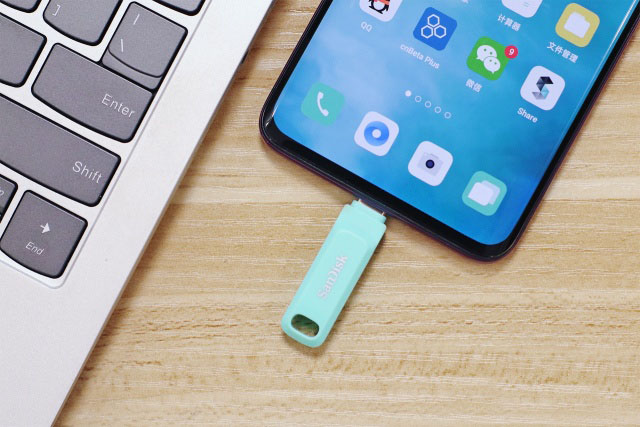 Extremely Fast Transmission with More Stable Performance
It can be plugged into the mobile phone easier than the previous OTG connection scheme, without the need to take an external adapter. With it, one can export videos and pictures taken on mobile phone to a USB Flash drive in time to free up space on the mobile phone.
For storage products, the read and write test is indispensable, which can reflect the true performance of the USB Flash drive to a the full extent. Here I choose the top version of Lenovo Xiaoxin Pro13 laptop (Samsung SSD, USB 3.1 Gen1 interface) as the test equipment.
I choose Crystal DiskBenchmark7.0 for test, which is used by many users. Other objects are the SanDisk CoolSoft Type-C USB Flash drive with the factory FAT32 format, TYPE-A port, as well as 1GB file. The test result shows that the sequential reading is 150.55MB/s, that the sequential writing is 65.02MB/s, and the 4K random writing is 3.19MB, all in line with expectations.
The benchmark test may not be vivid enough for mass users, nor can it fully embody actual performance. So I would take a test in actual use. And to make data statistics more accurate, I used FastCopy to copy a bunch of music files (adding up to nearly 4GB, with each file ranging from several MB to tens of MB) in the C drive of laptop to SanDisk CoolSoft Type-C USB Flash drive. It took 5 minutes and 0.4 seconds in total, and the average continuous write speed for small files was 13.0MB/s. In the event of copy the same content from the USB Flash drive to another disk in the computer, it took 38.8 seconds, with the average read speed being 102.3MB/s. Based on the results, we can get the USB Flash drive was relatively stable.
To test the actual read and write speed of a single large file, I chose a single compressed package nearly 4GB and used the same FastCopy to copy it from the C drive of laptop to the SanDisk Cool Soft Type-C USB Flash drive. It took 1 minute and 55 seconds, with the continuous writing speed of 32.7MB/s. And when used to copy the same content from the USB Flash drive to another disk in the computer, it took 26.4 seconds, with average read speed of about 143MB/s. It is a further improvement indeed and I am quite satisfied with the reading speed, based on main requirements for high-definition resources and large files.
If you still can not form an intuitive image of the speed of the SanDisk CoolSoft Type-C USB flash drive, then I can make another test, which use an original main old USB Flash drive instead( a standard USB3.0) and keep other parameters the same. The results shows that it is weaker than this SanDisk Cool Soft Type-C USB Flash drive in both write speed and read speed (22.3/131.6).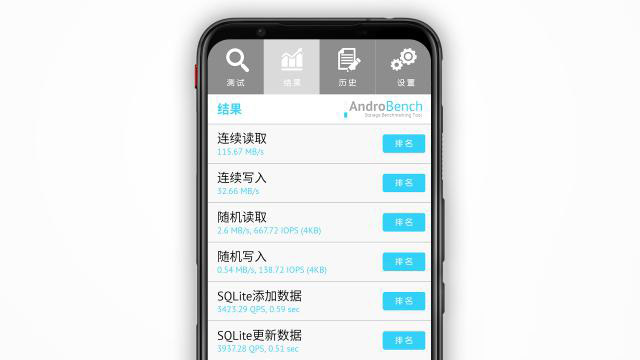 Let's take a look at its performance when used in the mobile phone. And the data is for reference only because different mobile phones have the different storage standards. This time I used the Androbench software and the Red Devils 5G (LPDDR5+UFS3.0) to test the reading and writing. The result shows that the continuous reading speed is 115.67MB/s, and the continuous writing is 32.66MB/s.
Small USB Flash drives will get hot easily, but users is advised to pay more attention to the degree of heat, especially in summer. As far as I am concerned, the heat the SanDisk CoolSoft Type-C USB Flash drive emitted is reasonable. In order to more accurately grasp the heating situation, I compare the heat of old all-metal USB Flash drive and SanDisk USB Flash drive( after writing a nearly 4GB file) against infrared thermal imaging; the result was out of my expectation that the SanDisk USB Flash drive was less hot than the all-metal Udisk that appeared earlier in the article.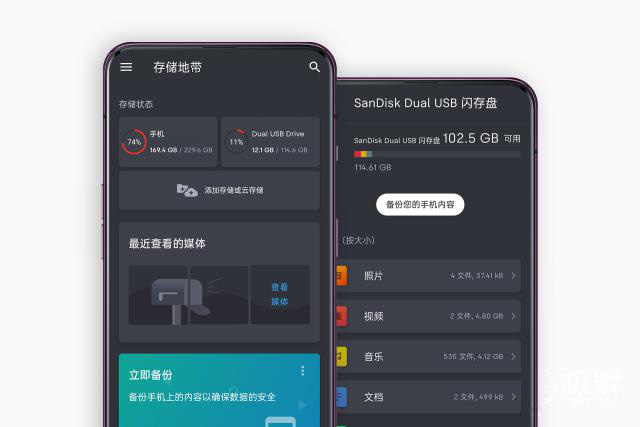 SanDisk, like other excellent technology companies, focus more on the comprehensive experience of software and hardware. This SanDisk Cool Soft Type-C bulk thumb drives is also equipped with its own software, which can manage such operations as mobile phone local storage and cloud data simultaneously. And I would rather use its backup phone to take photos and videos so as to save more phone space.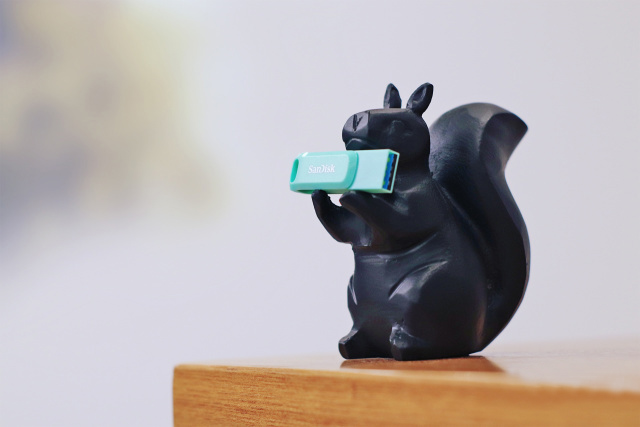 Summary
To sum up, this SanDisk Cool Soft Type-C bulk thumb drives meets my expectations and my requirements for reading and writing large files. So I view it a good dual-use bulk thumb drives and SanDisk a reliable flash drive brands. Besides, my concerns that the color would be too bright were cut, the moment I got it, and my family also liked it. Its dual-port design completely held keep users away from inefficient transfer of large files between mobile phones and computers. Moreover, it is more convenient and efficient, compared with the days when we ha to use a separate Type-C to Type-A adapter.
How to use bulk USB flash drive in perfect condition?
All you need to know about USB drives in 3 mins
thumb drives Card storage to ensure the quality of USB flash drive