January 15th 2023
In order the test the performance of Kinston's DTX USB Flash drives
G2, G3, and G4 are the most popular products among Kingston's DataTraveler series of usb flash drive products. G2 uses a coverless rotary keychain design, G3 uses a coverless slider, and G4 uses a cap and a iconic colorful big ring design. These super cost-effective Kingston Usb drive products are not only the epitome of bulk USB drives shape design evolution, but also become the representative of its bulk thumb drives product line. Its excellent craftsmanship, excellent performance, and high adaptability to multiple scenarios have been deeply planted in the hearts of the people.
Kingston DataTraveler G4 flash drive introduces the concept to marking capacity with large circles of different colors for the first time, allowing users to identify capacity more easily and provide an intuitive reference when making purchase. Nowadays, multimedia data shows explosive growth, users need more capacity to carry their own ideas and thoughts. The continuous iteration of interface protocols provides stable and fast data copy performance for the current era of data explosion. The 32G-128GB capacity choice of DataTraveler G4  flash drive obviously cannot meet the current needs.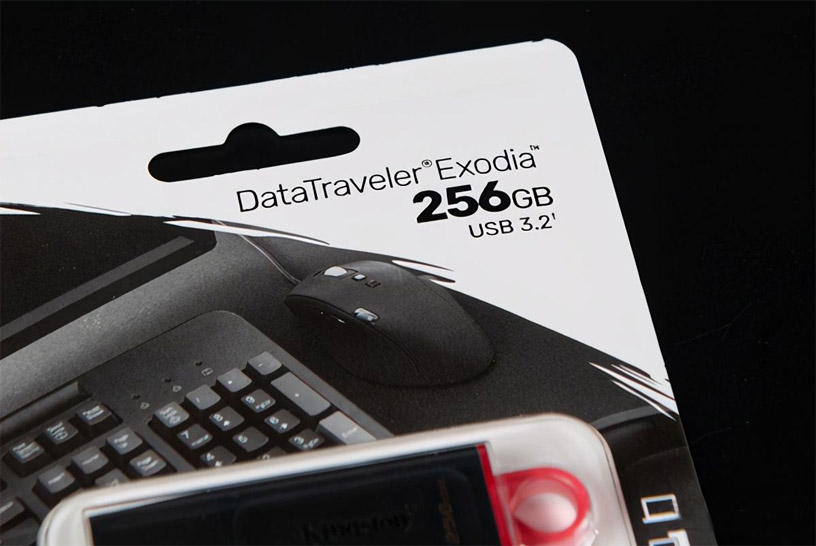 In order to comply with the advent of the data explosion era, Kingston launched an upgraded DataTraveler G4 USB flash drive product, DataTraveler Exodia. Its storage capacity starts directly from 32GB, and provide a maximum storage space of 256GB. Like DataTraveler G4, DataTraveler Exodia continue to use the concept of using color to identify capacity. And upgraded it from the original pure color system to a transparent jelly color system, including 32GB (jelly white), 64GB (jelly blue), 128GB (jelly yellow) and 256GB (jelly red), with USB 3.2 Gen 1 protocol and traditional USB-A Interface specifications. Same usage with new capacity and color, continue the past glory with a new attitude.
This time, we have the largest 256GB version of DataTraveler Exodia (hereinafter referred to as DTX). The packaging of DTX continues the classic style of Kingston, with a low-key design, but the design cannot conceal the strong aura of the new product. The product name, the mark of 256GB and USB 3.2 can be clearly seen from the package, which is simple and clear, without too much modification, the high-performance configuration is clear at a glance. The back of the package is printed with general precautions and other content, so I won't repeat them here.
Open the package and hold the DTX in your hand. Its size is about 67.3mm*21.04mm*10.14mm and its weight is only 11g.
It is small and light, it does not take up space and weight.
In appearance, the upgraded DTX uses a matte material shell, which has a delicate and smooth feel. On the side with the Kingston LOGO logo, the concave area is also carefully designed, so that the user's thumb can hold the USB disk more comfortably when inserting the USB disk into the computer.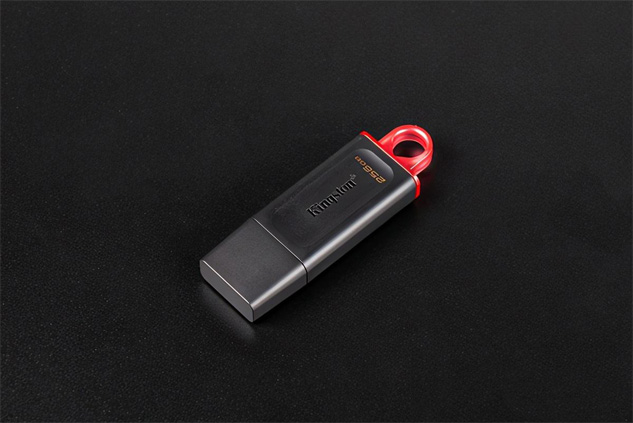 Another advantage of this design is that it allow you to quickly distinguish the front and back of the USB flash drive, allowing users to more accurately determine which direction to insert the USB flash drive, effectively avoiding the pain of repeatedly trying to connect to computers during daily use of the USB flash drive.
Perhaps it considered its wide range of applicable users, DTX is applicable in a wide range of scenarios. Kingston wisely chose the timeless black as the main color of the USB flash drive. So, it can be your low-key and most powerful good helper for business, leisure, entertainment, reading and studying.
The colorful key ring design at the tail of the previous generation DTIG4 is used in this DTX as well. The jelly-colored colorful key ring at the tail makes the USB drive more delicate and livelier. Users can intuitively distinguish 32GB, 64GB, 128GB, and 256GB versions by color. However, even though there are colors to distinguish the versions, Kingston still intimately printed the capacity value on the shell, which is convenient for users.
In addition, because the DTX has a separate cap design, the separated cap can be inserted on the end of the bulk thumb drive, so that the cap won't be lost because people like to put it in random places, and you no longer have to worry about losing the cap.
In response to different storage needs, DTX's flash memory particles have been strictly screened to ensure the high quality of each flash drive. Kingston also provides a five-year warranty and free technical support services to ensure the safety of each user's data.
Photos, music, videos and documents are the most common storage content in daily life. High-speed storage performance can effectively improve our operating efficiency. DTX flash drive adopts the USB 3.2 Gen 1 specification, which can realize the function of read HD Videos, large quantities of pictures and huge data files fast.
Let us verify it through a professional test platform. First of all, we use the ATTO Disk Benchmark software to test it. This software may be a little strange to ordinary people. In short, this software supports reading and writing tests for stability/burst transmission rates. It has a wide range of application and can perform performance test on bulk thumb drives, SD card, TF card, mobile hard disk, SSD solid state hard disk, mechanical hard disk, memory stick and many other storage devices.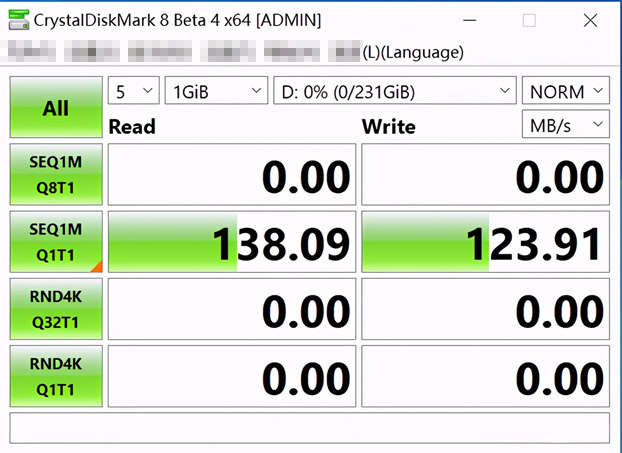 We can tell from the test results that the peak writing speed can reach up to 106.08 MB/S, and the peak reading speed can reach up to 125.29 MB/S. The excellent reading and writing speed makes DTX fully capable for daily usage.
As a team that pursus rigorous testing, we also used another testing software: CrystalDiskMark. This software is more professional and can test the true continuous reading and writing ability of DTX.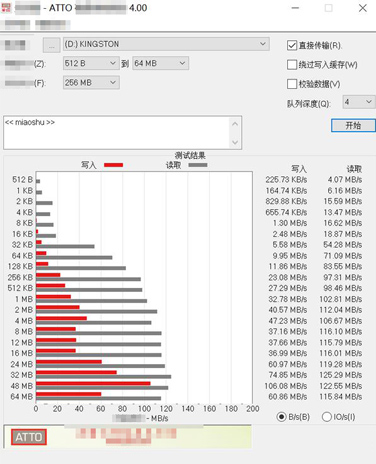 It is not difficult to find that the performance of DTX on CrystalDiskMark is also quite eye-catching. its writing speed Has reached 123.91 MB/s, and its reading speed has reached 138.09 MB/s.
Compared with the previous generation product, DTX's reading and writing speed has been significantly improved. As a product that promotes on wide applicability, large storage space, and high recognition, its cost performance is also quite excellent as a new product. Therefore, DTX worth every user who has daily storage needs to buy.
U disk as a product with a very high penetration rate, users value the using experience most. In this data explosion era, in order to allow users to still use the products that they are familiar with today, Kingston not only uses the large colored circle design, but also uses the traditional USB-A interface. The larger capacity, and faster reading and writing speeds will allow you to experience the new freshness and fun in the process of data storage.
With the ever-increasing capacity and speed of the interface, the product itself is being polished while exploring the diversified application scenarios of users. Through product iteration, users can enjoy a consistent quality of digital life at different times. This may be the original intention of Kingston when it insists on exploring Usb flash applications.
How to use bulk USB flash drive in perfect condition?
Thunderbolt 3 is the highest specification presentation of type-C interface!
USB Hub interface in the market is usually 4 or 7. It is easy to understand 4 interfaces