January 15th 2023
4K shooting needs a high-speed memory card
With the development of technology, video shooting requires not only sound and image, but also high-definition picture, which is convenient to play on the super-large screen and projector, as well as later editing. With the continuous improvement of specifications, 720P and 1080P are out of date.
4K shooting has gradually become the mainstream
4K resolution is 4096×2160 pixel resolution, which belongs to ultra-high definition resolution, and its data storage capacity will be greatly increased accordingly. Especially for the 4K video with high bit rate, it has higher requirements for photographic equipment and memory cards.
4K shooting needs a high-speed memory card
When choosing 4K camera equipment, many users tend to compare with many stores before buying, but they often ignore the selection of memory cards, thinking that it is enough to select memory cards of large capacity. However, if you choose a wrong memory card, there will be many problems, such as:
1.Video corruption can cause the captured 4K video to generate damaged or unrecognizable files finally, which may also reduce the quality of video to match the speed of flash cards.
2.Long video cannot be saved. When the writing speed of the camera is higher than that of the memory card, once reaching the speed limit of the flash card, the camera will be suspended and the video recording will suddenly end.
3.Because of the long buffer time, many camera devices have built-in storage space as a cache. When the writing speed of the memory card is low, and the cache is full due to the large amount of real-time video file data stored by the camera, the camera will be in a state of panic until the memory card has finished storing the file.
4.Continuous shooting mode fails. Many cameras have a continuous mode and can take a series of pictures with one click, which allow users to capture fast-moving events or objects, such as pets or children. However, the slow writing speed of the memory card will cause the failure of continuous shooting mode.
Therefore, no matter 4K shooting or SLR shooting, it is best to choose the high-speed memory card. At present, it is the most suitable choice that use the Kingston Canvas series.
The best partner for 4K shooting is Kingston Canvas React
At present, Kingston has the highest-end Canvas React in the Canvas series, which is the best partner for 4K shooting to provide a reading speed of up to 100MB/s and a writing speed of 80MB/s. The video speed level is V30, and the performance level of APP is A1. When supporting conventional equipment, the speed level is Class10. When supporting equipment conforming to UHS-I specification, it provides the high performance of UHI-I U3 and it supports UHS-I interface.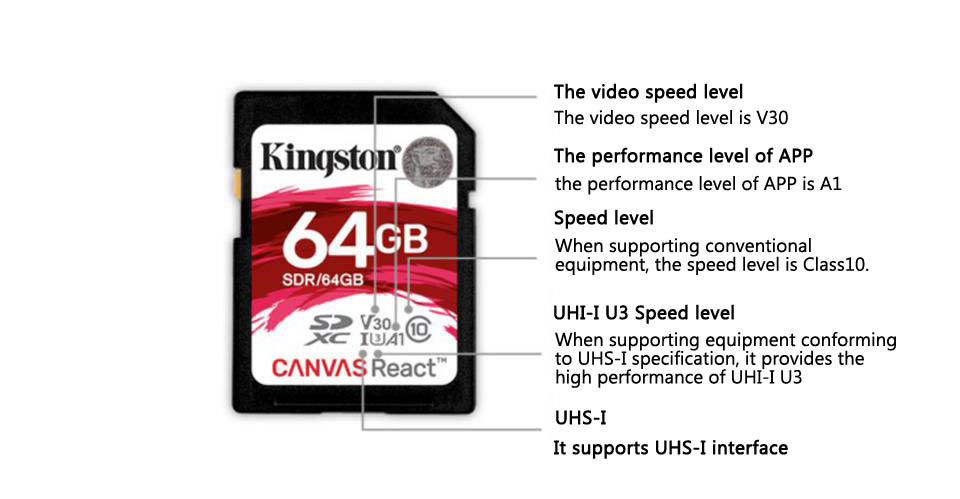 In addition to its powerful performance, Kingston Canvas React has excellent quality, durability, such as harsh use environment resistance, water-proof, temperature-resistant, earthquake-resistant and impact-resistant, and it can withstand the test of X-ray for security inspection during travel. It is the most reliable partners in daily use and travel photography. Moreover, it offers a variety of large capacity options between 32GB and 256GB.
There are some economic options including Kingston Canvas Go and Canvas Select.
In addition to Canvas React series of the Kingston for 4K shooting, Kingston Canvas Select is the most economical option if only to meet the storage needs of ordinary card cameras, which has provided the capacity of 16GB-128GB and can reach the UHS-I Class10 specification. The reading speed of data is as high as 80MB/s, which can support continuous high-definition photography and full-HD video recording (1080p).
Between the high-end Kingston Canvas React and the economic Canvas Select, there are also professional Canvas GO series for SLR cameras, UAVs, and other SD card compatible with motion cameras, which have data reading speeds of 90MB/s and writing speeds of 45MB/s. They can reach specifications of 256gb Class 10 UHS-IU3 and V30, supporting high-speed continuous photography with high definition and 4K video. And they have the maximum capacity of 256GB.
For the above the memory cards of Kingston Canvas series, Kingston provides the same quality, lifetime warranty and free technical support services, and users can safely choose on demand.
Take You to Know about the Relevant Knowledge of SD Cards Memory Cards Encyclopedia
Detailed explanation of the knowledge about SD cards (SD miniSD microSD SDIO)
The solutions for unreadable SD Card