January 15th 2023
Evaluation of Samsung PRO Endurance memory card for efficient security monitoring
Memory cards are widely utilized in our lives as a storage product that increases the storage space of gadgets. Cellphones, action cameras, drones, switches, etc. are all inseparable from it. Due to the rise of small-sized security monitoring equipment like driving recorders and home-based smart monitors, microSD memory cards—compact storage media that may provide large-capacity storage space—now face new competition.
The microSD memory card has undergone extensive development over the years, with extremely advanced storage technologies and a wide range of storage capacities available. However, typical microSD memory cards fall short of the demands for high-performance applications like home intelligent monitors and driving recorders, which function essentially in a 7×24 ultra-long monitoring operation system, and high-speed storage video read and write. And using an unreliable card could result in countless issues and losses, including the device failing to identify it, burning the card, playing too slowly, or even failing to load.
The PROEndurance memory card series, created for security cameras, driving recorders, doorbell cameras, body-worn recorders, and other devices that all require expanding storage, have just been released by Samsung Electronics, a leader in the storage sector, to address this issue. Today, we'll examine the newest microSD offerings from Samsung.
Assessment of PROEndurance memory card:
The Samsung PROEndurance series is a brand-new memory card offering from Samsung Electronics that adheres to the microSD size criteria. Uniquely designed to meet the rigorous demands of surveillance cameras, dashboard cameras, doorbell cameras, body cameras and more, the card offers improved endurance and outstanding performance for smooth and reliable continuous capture and playback.
There are four different capacity options available for the Samsung PROEndurance series microSD cards: 32GB, 64GB, 128GB, and 256GB. The capacity specifications that are available for our laboratory were 128GB and 256GB. Therefore, we evaluated the PROEndurance series microSD cards' performance based on these two capacity requirements.
The outer package for the Samsung PROEndurance series microSD card adopts a plastic-encapsulated front with a thick cardboard as the backplane, which is a typical design pattern for memory cards.
The product's primary color is white, and the top features the PROEndurance series name in a two-stage structure with gray and blue accents. The purpose and capacity description is presented underneath the series name and is presented as a combination of text and images. The lower middle area of the packaging contains the memory card and accessories. The blue English LOGO for Samsung is located at the bottom.
The Samsung PROEndurance series ensures data protection and reliable performance as a storage solution specifically created for security monitoring systems. PROEndurance is waterproof, anti-drop, anti-wear, anti-magnetic, anti-X-ray, and resistant to hot and low temperatures. It can also withstand all types of wear and tear when used in adverse weather conditions.
In addition, according to the official performance data given on the product packaging, the PRO Endurance card can deliver up to 140,160 hours of continuous recording time (256GB specification), and provides a 5-year limited warranty (1 year for SD adapters). Theoretically, its performance might reach up to 100MB/s read and 40MB/s write.
A microSDXCUHS-I memory card and an extension SD adaptor card sleeve are included in the packing. With white as the background color, the memory card is paired with a blend of blue and black text logos, and the card sleeve is a pure black text logo design, keeping with the overall motif of the outer packaging.
Consider the 128GB Samsung PROEndurance memory card as an illustration. The memory card measures 15x11x1mm in dimension and 0.25g in weight. It can be noted that the volume and weight are fairly tiny. The memory card is simultaneously compatible with a number of speed levels and grade certifications, including U3, V30, and Class 10, and its read and write performance is reliable and effective, particularly for the recording and playback of Full HD/4K video.
The memory card interface has a UHS-I (SDR104) design, and thanks to its outstanding construction, it can withstand up to 10,000 plug-and-unplug cycles without affecting the memory card's functionality.
Additionally, the memory card works with the majority of electronic devices that have microSDXC memory card slots for storage purposes. The compatible items include digital cameras, digital video recorders, GoPro sports cameras, drones, in addition to various optimum security monitoring devices and driving recorders.
The SD card sleeve that comes with the memory card can be used to convert the interface of the memory card if you need to use it on a device with a conventional SD card slot.
Performance evaluation of a Samsung PROEndurance memory card:
To determine the memory card's level of performance, we will run a data-based performance test on it using a variety of evaluation applications for storage read and write performance.
The Samsung PROEndurance memory cards of 128GB and 256GB are the test items.
ASSSDBenchmark test:
The read performance of the 128GB and 256GB models in the ASSSD benchmark performance test shows minimal variation between them; both can attain sequential read speeds of more than 93MB/s, and 4K and 4K-64Thrd can also be read at 11 MB/s.
In terms of write performance, the write speed of the comparatively small-capacity version of 128GB is 64MB/s, whereas the sequential write speed of the large-capacity version of 256GB can reach more than 84MB/s. High-speed read and good write performance, when viewed as a whole, reveal the memory card's performance foundation.
ATTODISKBENCHMARK Test: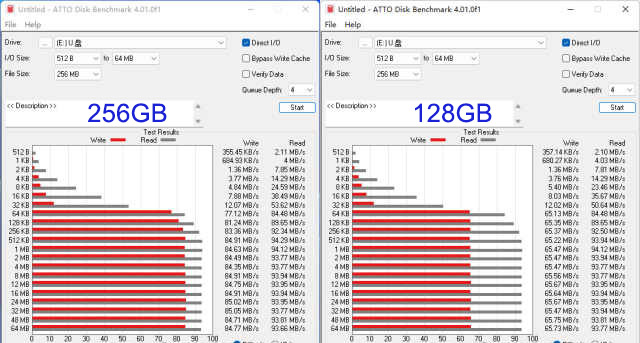 The test package's data capacity in the ATTODISKBENCHMARK benchmark test is 256MB, and the 256GB memory card's peak read and write speeds are 94.29MB/s and 85.05MB/s respectively. The 128GB memory card's maximum read and write speeds are 94.12MB/s and 65.75MB/s respectively. The two variants of the memory card function similarly when it comes to read data, but differently when it comes to writing data.
DISK SPEED TEST:
The read and write performance of photographs and movies can be seen in the DISK SPEED TEST test in addition to the read and write performance of data. The 128GB variant has read and write speeds of 93.4MB/s and 64.5MB/s respectively,with H.265 video's write and read operations at 731/1060 for 1080HD and 228/331 for 21604K.
The 256GB variant has read and write speeds of 90.8MB/s and 81.4MB/s respectively, with H.265 video performing write and read operations at 922/1029 for 1080HD and 228/321 for 21604K.
Evaluation summaries
The Samsung PROEndurance series, which was recently introduced, is adequate to fulfill the demands of long-lasting security monitoring equipment and can be applied to different types of security monitoring equipment, driving recorders, etc. without risk. Additionally, it can be safely used in devices like drones, GoPro action cameras, digital cameras, and digital video recorders. It can better preserve data security and handle diverse wear and tear utilized in inclement weather thanks to its numerous protective qualities, including anti-magnetic, anti-X-ray, waterproof, anti-drop, anti-wear, and high and low temperature resistance.
How to get satisfied bulk Micro SD Card and SD Card?
Get right bulk Micro SD Cards for Dashcam
Officially authorized SanDisk Nintendo joint microSD memory card photo gallery