Free shipping
UP to 300pcs
MOQ
(minimal order quantity)
Product description:
Technical detail
| | |
| --- | --- |
| manufacture | MRT |
| Flash Type | MLC and TLC |
| Weight | 3g (0.11oz) |
| Speed | 10-15MB/s by Write, 20-30MB/s by Read |
| Dimension for Standard SD Card | 32.0mm(L) x 24.0mm(W)"W x 2.1mm(T)D |
| Operating Temperature | 0 to 60 °C (recommended) |
| Standard | SD 2.0 |
| Shipping Time | 3 - 5 days by DHL |

Custom Sticker Size: 20x25mm (mm)  / 0.78 x 0.98  inches
Testing we have for bulk Wifi SDHC 128GB 
MRT does 100% testing on all memory cards. Main tests are H2test, ATTO test, Aging test and reliability test and backed up with 5 years warranty. Our bulk SD cards are using controller to deliver SPI signals to flash media data, it is the way to produce optimized SD cards. In addition, there is power interrupt data protection for 128GB flash cards. It is an advanced function to prevent data loss from unexpected power failure. With these rigorous tests, the MTBF can reach more than 2 million hours.
H2test result for bulk Wireless SDHC 128GB:
bulk Wireless SDHC 128GB Datasheet
product detail
This Wireless SD Card Adapter supports simultaneous access from up to 5 devices. You can take photos with your digital camera loaded with Wireless SD Card Adapter  for Micro SDHC Memory Card flash available for canon/nikon/sony DSLR and these photos can be accessed and stored on multiple PCs, tablets or smart phones on the spot. Better yet, no internet connection is required to access the SD card.
The Wireless SD Card is easy to set up as there is special driver or software installation required on your device. Just like the regular wireless LAN access point, the wireless connection can be secured with WEP, WPA or WPA2.
Features:
Wireless data Transfer
Easy to set up
Low power consumption
Multiple Platforms, Simultaneous Connections
2-year limited standard warranty included
Quality standard
speed: Class10
Transmission speed: 1.5MB/S
Wireless standard: IEE802.11b/g/n
Size: 32*24*2.1mm
Weight :4g
Login Method: Browser/Client
Supported Browser Types: Safari/IE/OPERA/Chrome/UC/QQ Browser
Client Support: ISO/Android/Windows
Use environment: Digital camera/camcorder, SLR camera and other devices supporting SD memory card
Terminal support: iPhone/ipad, smartphone, tablet, laptop WiFi-enabled
Where to USE
1.Package include a Ez share Brand wifi adapter and a Ez share Brand professional card reader:
The adapter is wifi adapter and itself has wifi function,the card reader is Ez share Brand professional card reader and itself hasn't wifi function,but the wifi adapter can only  achieve the best wifi results  by Ez share Brand professional card reader.
2.Use steps: a)put micro sd car into wifi adapter,micro sd card capacity,between 4GB and 32GB.then put adapter into camera,then format it; b)take Photo or video; c)connect "Ez Share"WiFi on Cell phone;d)download an "Ez Share" APP on WiFi device; e)Select "my" on App; f)Select connect  ez hare hardware,then you can download photo or video.The item is only a Wifi adapter,without sd memory card.
3.Before using the camera, please set the camera's screen keep bright for 30 minutes,If the camera screen off, the WiFi auto cut off.
4.When using the computer to read the files in the memory card, first turn off the bottom of the WiFi card switch,the card reader must be inserted in the computer rear USB interface and must use high-quality card reader,so as to fullfill the WiFi card power supply.
5.Sony A350, RX1, RX1R, NEX-F3, NEX-3N, RX100, GXR, NEX-5 can't use the Wifi card,  if you use Sony camera,when you buy,please consult us.
6.Put ez share WiFi card into the camera,if mobile phones, tablet and other WiFi devices can not find WiFi signal,please note:
Please check if the switch of Ez Share WiFi card is open ;Make sure the WiFi device and the camera are within the effective distance;Make sure the Wi-Fi device's IP setting is "Get IP address automatically" or turn off the "Use static IP address" option.
7.When the camera is using the WiFi card, the camera itself can not directly transfer pictures or other files to mobile phones, tablet or other Wifi devices, but these Wifi devices can download Ez Share APP connect "Ez Share"WiFi, then open or download pictures and other files in the camera.
8.WiFi transmission distance: indoor 5-10 meters,outdoor 20-50 meters.
Order Instruction (Buying Guide)
300pcs order for wifi SD Card adapter is free shipping, all the SD card will be packed by tray or bag. You can order online if you accept bulk pack, you can email us if you need own logo or package.
MLC Flash (Contact us if you go for SLC)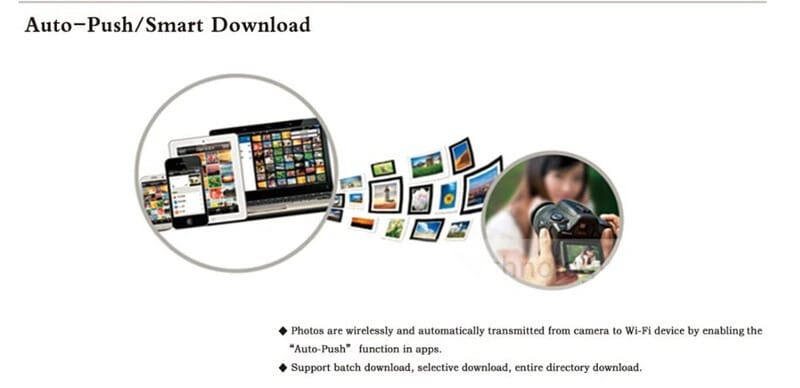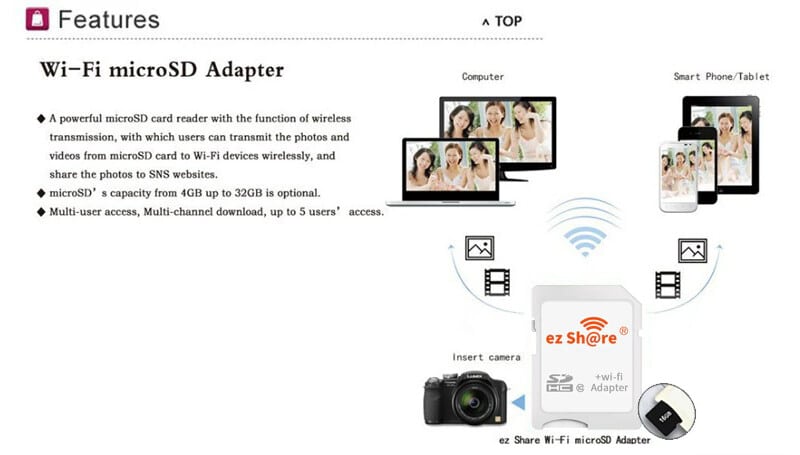 About capacity display in computer:
The conversion unit used by the memory card manufacturer is different from the conversion unit of the computer.
Memory card manufacturers using 1000 carry system, that is, 1G = 1000MB; computer with 1024 carry system, that is, 1G = 1024MB.
Manufacturer: 128GB = 128 000MB = 128 000 000KB = 128 000 000 000B
Which in turn is recognized by the computer
128 000 000 000/1024 = 127 250 000KB
127 250 000KB / 1024 = 120 517MB
120 517MB / 1024 = 109.6GB
Therefore 32GB's memory card display 29.8GB in computer;Same,16GB's memory card display 14.9GB in computer;64GB's memory card display 59.6GB in computer;128GBs memory card display 119.2GB in computer;256GB's memory card display 238.4GB in computer,512GB's memory card display 476.4GB in computer.
Some system files also have a certain amount of capacity, so the actual computer display memory will be slightly smaller than the above data.
About evaluation:
If you any question,please contact us,please not give negative feedback or badevaluation.