January 16th 2023
SD EXPRESS revolutionary innovation of memory card
SD Express uses the most popular PCIe and NVMe interface to provide faster transfer speed, which is a wise choice because these two protocols are widely used in the industry and brought tempting choices to all types of applications. Mats Larsson, senior market analysist from Futuresource, said that the SD Association has a stable ecosystem and rich experience in integrating SD innovation, which has won the trust of customers around the world.
SD Express follows the ever-increasing performance level trends of mobile devices, client computing, photo and video imaging, and automotive electronic systems. SD Express is leading the way in using high-speed data transfer interfaces PCIe and embedded memory protocol NVMe that are designed for high-speed data processing.
With SD Express, we have introduced a brand-new memory card that uses a faster protocol and can turn the card into a mobile SSD. Hiroyuki Sakamoto, the chairman of SDA said that SD 7.0 brings a revolutionary innovation, it anticipates and meets the needs of future devices for richer contents and higher speed applications in advance.
PCI-SIG is pleased to work with SDA to develop this innovation and create the world's leading removable memory card, SD Express. PCI-SIG President and Chairman Al Yanes said that PCIe specification compliance test is now widely used by test vendors and provides a huge advantage to all new PCIe adopters.
SD Express provides the speed needed to transfer large amounts of data. So, it can be used in data-intensive wireless communications, ultra-slow-motion video, RAW continuous burst mode, 8K video capture and playback, 360-degree camera videos, other application program that demand high data transmission speed such as SD card and mobile computing device, evolving gaming systems, multi-channel IoT devices, automotive electronics, and many application else. SDUC, SDXC and SDHC memory cards will be the first products equipped with SD Express technology.
NVMe is an industry-recognized high-performance SSD protocol that can be seen everywhere from the client end to the data center, with bandwidth reaching millions. Amber Huffman, president of NVM Express ™ Inc., said the SD Association will benefit customers by adopting the NVMe specification for new SD Express cards.
Today, SD Express uses the well-known PCIe 3.0 specification and NVMe v1.3 protocol defined by PCI SIG® and NVM Express respectively on the second row of pins used by UHS-II cards, respectively. SDA successfully saves development cost and make the industry more advantageous by using protocols that are already in the market, leveraging the building blocks that have been designed the industry, and allowing tests conducted by already existed testing devices. These cards also provide system developers with new options brought by PCIe NVMe features, such as bus masters, multiple queues without locks, host memory buffers, etc.. The new video detailly introduced the SD Express.
SDA has announced visual markings representing SD Express and SDUC memory cards, so that users can match devices that meet the best SD memory card selection recommendation lists for best performance.
An example of SDUC card: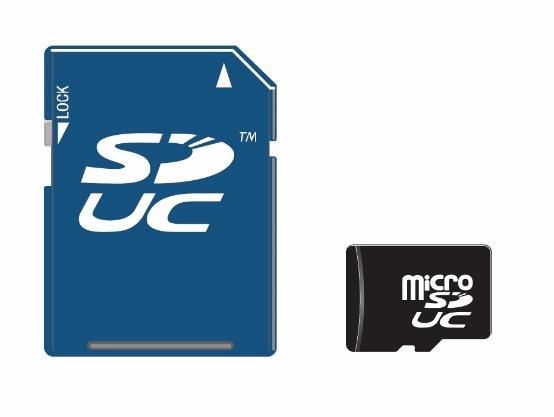 An example of SD Express memory card:
A new white paper, SD Express Cards with PCIe NVMe Interface, detailly introduced the new functions and features of the SD 7.0 specification. For more information, please visit our website.
The SD Association will display the latest SD card technology at the N2.C40 booth at the Mobile World Congress, held at the Shanghai New International Expo Centre (SNIEC) from June 27th to 29th, 2018.
What is SD Express?
This SD quick integration dissolves PCIe ® and NVMe ™ into SD connector and SD card. In order to meet the needs of high-performance mobile computing of the next generation, adding PCIe technology and the advanced NVMe protocol can access data files faster than current SD platforms, with speed up to 985 MB/s. The upper layer protocol allows advanced memory access mechanisms and provide new opportunities for popular SD memory cards. This new protocol allows SD Express memory cards to be used as removable solid state drives (SSDs).
The video released by SDA briefly introduced the features of SD Express.
These speeds are essential for high-resolution content applications, such as super slow motion video, RAW continuous shooting, 8K video capture and playback, 360-degree video, high-speed applications running on cards and mobile computing devices, evolving gaming systems , multi-channel IoT devices and numerous automotive storage needs, etc.
In addition to many performance improvements, SD Express also maintains the long-term advantages of SD backward compatibility and interoperability. The PCIe connector is added with the existing SD (UHS-I) connector, allowing cards with SD Express to operate interchangeably in new SD Express hosts as well as billions of existing SD host products on the market today.
Full-size SD Express cards use the same pins and connectors as the existing SD UHS-II. Therefore, SD Express does not support UHS-II connectors. It has new PCIe and NVMe connectors. The 3rd generation single-channel PCIe differential header uses the same pads as the SD UHS-II differential header pads in the second row of pins. Next, the PCIe REFCLK and the sideband signals CLKREQ # and PERRST # are shared with the existing SD UHS-I, using the first row of pins. The first line is also the SD UHS-I connector, providing full backward compatibility and interoperability with billions of existing SD host devices. The work on the microSD SD Express card is still ongoing.
SD Express is part of the SD 7.0 specification and uses two power supplies to define a full-size form factor: the traditional 3.3-volt and 1.8-volt. SD Express also allows an 1.2v power supply for optional future form factors, which requires additional pin # 18. The optional 1.2 volts in the future will allow for additional power / performance optimization. Cards using SD Express may consume up to 1.80 watts from the host, representing the cumulative power of the two power supplies.
The following figure shows the bit rate performance level of SD Express: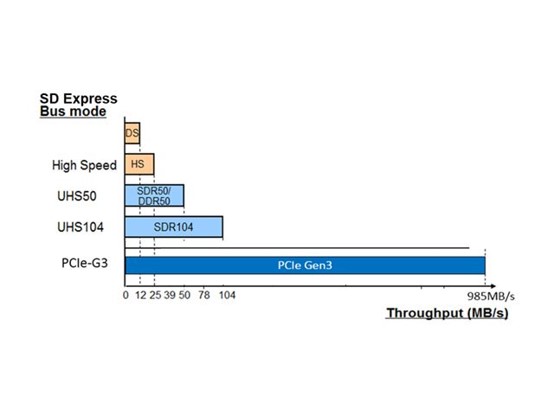 Bit Express performance level of SD Express
The SDA white paper, SD Express Cards with PCIe® and NVMe™ Interfaces, provides more technical details, and there are some benefits that card and system manufacturers can get through SD Express adoption. Assuming the use of NVMe version 1.3, the PCIe/NVMe connector part supports the following SD protocol functions. In the future, NVMe may fully support the following features:
Password lock/unlock: The card can only be locked/unlocked through a traditional SD connector. Locked cards do not allow access to memory through SD or PCIe/NVMe connectors.
Writing-protection function: The card can be set to writing-protection mode through the traditional SD connector. A writing-protected card is not allowed to write to it via its SD connector or PCIe/NVMe connector.
The PCIe connector does not support the following traditional SD functions:
SD CPRM security: If the SD Express host access card contains CPRM encrypted files through the PCIe connector, it will read them as encrypted data, producing the same results as inserting the card into any SD host that does not support CPRM.
The PCIe connector does not support speed classes, UHS speed classes or video speed classes.
The advantages of SD Express
SD Express includes traditional SD (UHS-I) connectors as well as PCIe and NVMe connectors-both of which are industry-recognized successful protocols.
By relying on existing successful protocols in the market, the industry can leverage existing PCIe and NVMe design modules and existing test equipment to save development processes. This saves costs and improves the bottom line when companies use existing building blocks of existing designs.
SD Express finally combines the best and most popular protocols of removable storage devices into a reliable SD card form factor, as shown below:
With the support of existing major operating systems and the popularity of drivers supporting PCIe and NVMe, the market application of SD Express should be seamless.
With the SD 7.0 specification, SDA has extended the capacity limit of traditional SD memory cards to meet the growing needs of users all over the world. In addition to SD Express, SDA has also created SD Ultra Large Capacity (SDUC), expanding the potential maximum SD memory card capacity from 2TB to 128TB. SD Express can be implemented on SDHC, SDXC or SDUC memory cards.
SD Association
The SD Association is a global business group composed of nearly 900 technology companies, and is responsible for developing interoperable SD standards. The Association encourages the development of consumer electronics, wireless communications, digital imaging and networking products that utilize market-leading SD technology. The SD standard is the number one choice for consumers, it occupied 90% of the memory card market with its reliable interoperability and easy-to-use format. Today, smartphones, tablets, drones, IoT devices, high-definition televisions, audio players, in-vehicle systems, computers, digital cameras, and digital shooting cameras all use the interoperable SD standard. For more information about SDA or to join SDA, please visit the SD Association website: http://www.sdcard.org.
The SD logo is a licensed trademark of SD-3C LLC. PCI-SIG is an alliance that owns and manages the PCI specification as an open industry standard. The organization defines industry-standard I/O (input / output) specifications consistent with the needs of its members. Currently, the PCI-SIG is composed of nearly 800 industry-leading member companies. To learn about PCI-SIG and get a list of board members, visit www.pcisig.com. PCI Express® is a registered trademark of PCI-SIG.
PCIe®-PCI Express is a standard established by PCI-SIG® and PCIe® is a trademark owned by PCI-SIG®
NVMe ™-NVM ExpressTM is a standard set by NVM Express Inc. and NVMe ™ is a trademark owned by NVM Express Inc.