January 15th 2023
Samsung storage devices performed well on the trip to 5000 meters Mount Everest.
Turning idea into reality is really a wonderful thing.
china is rich in resources, with thousands of miles of mountains and rivers. Not only do we have vast river and long and winding coastline, we also have the place that is the closest to the sky. The Qinghai-Tibet Plateau, also known as the roof of the world, is called the third pole of the earth. It is a land full of sacred and magic. Thanks to the altitude of the plateau, the air here is thin but pure, and the sun here is blazing and transparent. It is indeed not the most suitable place for human to live, but because of this, the Qinghai-Tibet Plateau has become a paradise for explorers, a pure land that countless travelers must visit once in their lives.
If it weren't for the Everest Extreme Experience Plan, we might only be able to set foot on the snow-covered plateau by traveling, and take a pilgrimage with a tourist mentality. But because of the proposal of this plan, it gave this trip to Mount Everest a special meaning. This year marks the 60th anniversary of the Chinese people's first ascent of Mount Everest, and on April 30, the 6500-meter-long Mount Everest Camp completed the construction of the world's highest 5G base station, successfully enabling 5G coverage here. This time, we seized this opportunity, hired a gold medal tour guide, carried all kinds of avant-garde technology and equipment, and led people to visit the Mount Everest camp through live broadcast, to jointly appreciate the cultural customs of southern Tibet and experience the extreme environment of Mount Everest.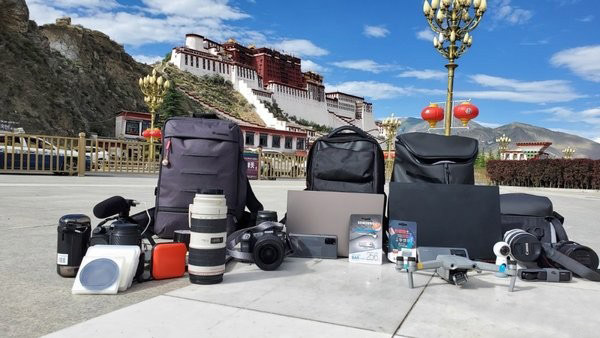 In addition to personal belongings, we also carried a lot of technological equipment for this operation, including four cameras, four notebooks and several lenses. The shooting equipment also included GoPro sports cameras and DJI's new drones. The others are all kinds of photography accessories, such as filters, stabilizers, tripods and so on. After all, we need to spend a whole week on the plateau. In addition to hold multiple live events, our three explorers will take a lot of photos and videos. We need to give enough attention on how to properly store these materials.
Among all memory card brands, we finally chose a whole series of Samsung storage devices as storage support for this trip to Mount Everest. As a giant manufacturer in the storage industry, Samsung Storage enjoys a very high evaluation worldwide. With self-developed particles and independent chips, Samsung's storage devices can be top-notch in the industry in terms of performance and quality, this seems to fit the plateau in a different way. Taking into account the altitude of the Qinghai-Tibet Plateau and the special alpine climate, the protection of equipment and data security during the trip has become a very important aspect. We really don't know what kind of emergencies may happen during a journey of thousands of kilometers. Many Samsung storage devices have four-proof or five-proof capabilities, which can guarantee our data security to the greatest extent. At the same time, the environment of the plateau is also very suitable for us to carry out extreme tests on these devices, and really feel how is Samsung storage performance.
Specific test data comparison
We mainly used the CrystalDiskMark software to test the memory cards to understand the performance of the card. The following Bar+ flash drive will also perform the same operation. At the same time, we will compare the data of the two products with the data tested before departure in Beijing to observe whether the storage device has good stability.
CrystalDiskMark has been upgraded to version 7.0.0, we usually use it to test the reading and writing speed of hard disk storage devices. According to the test results, despite the salt water immersion, we can see that the performance of this Samsung EVO Plus upgraded version+ is still very good, its continuous reading speed can reach 96.06MB/s, and the continuous writing speed can reach 82.83MB/ s, almost identical with the official standard speed. Comparing with the data tested before departure, after undergoing various rigorous extreme tests, the Samsung memory card can still reach its own standard speed level.
Data after extreme test

Data before extreme test

Material transfer after returning to Beijing
The speed of the Samsung memory card slowed down during the process of transferring a folder with a size of about 4GB and contain 500 photos. This is also a normal phenomenon when the storage device faces a large number of small file transfers. However, for a memory card, it is also very good to guarantee a transmission speed of about 90MB/s, and it only takes 1 minute and 15 seconds to transfer these pictures.
Samsung Bar+ flash drive test data
For Samsung Bar+ flash drives, they also faced the same speed test after thawing, and compared with the data measured before the test. The upgraded version of Samsung Bar+ USB3.1 flash drive that has undergone freezing treatment has just been thawed, and the internal structure must be dry during testing.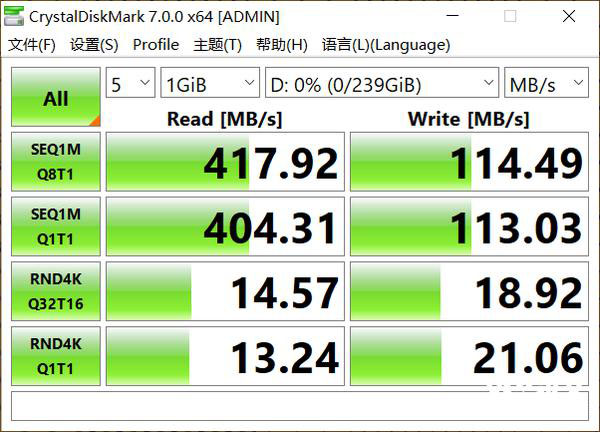 Data after extreme test
Pre-test data
According to official data, the continuous reading speed of the 2020 Bar upgrade version + memory card (256GB version) is up to 400MB/s, compared with the continuous reading speed of 414MB/s, the continuous writing speed of 111MB/s measured before departure, and the fact that the flash drive still maintains a high level performance after 3 days of freezing test, it seems that the quality assurance is consistent.
It only takes 15 seconds to transfer a 6GB movie file, which is fast.
Material transfer after returning to Beijing
The speed of the Samsung Bar+ flash drive has also declined during the same transfer of 4GB data folder that contain 500 photos, but the transfer speed of more than 300MB/s is also remarkable, and it only takes about 45 seconds to transfer these pictures .
In addition to testing the reading and writing speed, we also conducted an impact test for the Samsung Bar upgraded version + USB3.1 flash drive. On the gravel ground of Mount Everest Base Camp, Samsung Bar Plus flash drives were thrown in various ways, including not only falling but also flat throwing, and even being beaten "violently". But because that the U disk uses a metal shell, and has high strength, there are only scratches caused by collision with rocks on the appearance, and the internal data is not affected in any way. The reading and writing speed remains the same.
Live video screenshot
Actual experience
In this Everest Extreme Experience Tour, Samsung storage devices played an extremely important role. In addition to ordinary data reading, writing and storage, it can quickly record 4K video in the camera, and high-resolution photos can also be reviewed instantaneously. The loading speed is super fast. It provides hardware support for colleagues to quickly view photos and adjust device parameters.
It is worth mentioning that drones played a key role in this trip to Mount Everest, and we also record places where drones can be used. The storage support for the drone also comes from the Samsung EVO upgraded version + MicroSD memory card. Stable performance, radiation protection and resistance to large non-operating temperatures are the basis for its excellent shooting performance. When using drones to shoot 4K videos, the Samsung memory card is stressless. It is definitely capable for photo shooting.
Samsung memory cards not only can be used in cameras and drones, but also can be used in GoPro. Although GoPro's waterproof performance is strong, from the perspective of memory card, its own support for 72h seawater immersion protection is undoubtedly the last insurance, and precious video materials can be stores safely.
Can stand extreme test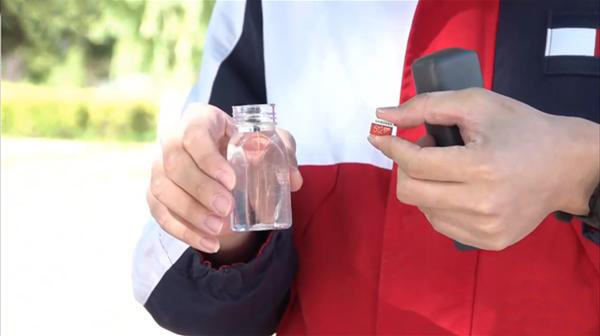 In fact, on the first day of the trip, a Samsung EVO upgraded version + MicroSD memory card was thrown into a salt water bottle with a concentration similar to that of seawater. It went to Lhasa with our team members. The Everest Extreme Experience Tour officially started accompanied by Samsung Storage. Prior to this, a lot of data has been stored in the card, including dozens of movies and other documents. On the third day of our trip, we took it out of the salt water and performed  other related tests. At the same time, another memory card and Samsung Bar upgrade version + USB3.1 flash drive were also put into the water, and will be subjected to a three-day freezing test in the freezing layer of the refrigerator at minus 20°C.
On the first day of the trip, we conducted a live broadcast near the Potala Palace and introduced the audience to these two excellent storage devices from Samsung. On the third day of the live broadcast, we removed the memory card from the salt water and performed the performance test mentioned above. On the other hand, the ice wrap on the Bar+ flash drive that has been frozen for three days has gradually melted, and it also performed well in the performance test.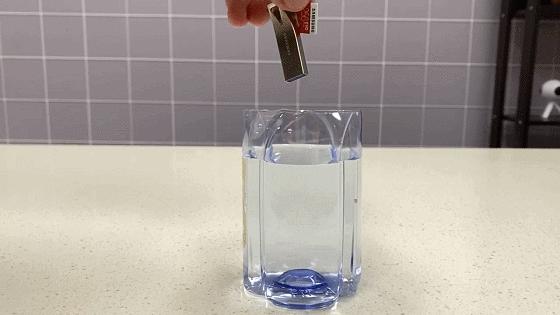 (Picture: Memory card immersed in salt water for 72 hours)
The Everest Extreme Experience Tour event can be said to be full of rewards. With the support of Samsung storage devices, we shot a large number of high-quality videos and photo materials; and in the live broadcast, we also mentioned the convenience that Samsung storage devices have brought us.
My fellow colleague, who participated in this event, commented on Samsung's memory card, "(It) has gone through harsh tests such as freezing, salt water, and high temperature, and it is unharmed. It has first-class performance and can fully release the strongest strength of the shooting equipment." He also praised the Bar+ flash drive: "This USB flash drive gives you the feeling of an SSD killer. Its reading speed is comparable to that of an SSD. Its lightweight design and five proof capabilities make it even more portable and durable than SSD." He seems to care more about the portability of storage devices than speed. After all, "it's quite nice to connect to a computer without a cord."
We have already returned to Beijing when this article is finished, and all kinds of photos and video data are safe and sound. Samsung storage devices have really brought us different surprises on our tip to Mount Everest. Samsung is safe and reliable, and has superior performance. This is also Samsung storage's consistent quality. We are also looking forward to meet with Samsung Storage the next time.