January 15th 2023
SD card is faster than SSD! Can the USB flash drive be used as a solid state disk?
Some time ago, TSMC's construction of factories in the United States has become a hot topic. Various reports have occupied the headlines of various account. However, among these mixed messages, I find a very interesting message. The reading and writing speed of SD 8.0 card reaches 4GB/s. When did bulk SD card perform faster than SSD?
According to the news, the SD Association released the latest SD 8.0 specification, which uses NVMe Express protocol, dual-channel PCIe 4.0. Its transmission speed reaches an astonishing 4GB/s (reportedly 3,940Mbps), which is about 4 times the current SD Express card speed (985Mbps). Not to mention that the fastest UHS-III high-speed SD card (624Mbps) can hardly compete with it, even the common SSDs of PCs fall far behind.
However, after looking at the information in detail, I find that the maximum speed of 4GB/s must be matched with a card reader that supports PCIe 4.0 with dual lanes. If PCIe 3.0 is used, the transmission speed will be halved to about 2Gbps (the actual speed is 1,920Mbps).
Even so, the speed is still twice as fast as the fastest SD card. Of course, SD 8.0 memory cards are also compatible with older card readers, but the speed will be greatly reduced.
In addition, the SD Association said that the new SD Express will be suitable for different memory card capacity specifications, including SDHC, SDXC, and SDUC, so theoretically, SD 8.0 memory cards with a maximum of 128TB capacity can be bought in the future.
So, I want to raise a question, since SD 8.0 card can be compared with solid state, can large capacity U disk be considered as SSD?
As we all know, there is USB 3.0 specification on the market, and similarly, solid state and U disk are both mobile storage devices. Apart from the difference in appearance, the components are also different.
But the U disk also has solid-state U disk, which is comparable to some SSD mobile hard disk, that has the same main control and flash memory, such as Silicon Motion SM2246XT main control.
(The reading and writing speed of a brand WTG U disk exceeds 400 MB/s, and also used a bridge chip)
Some good solid-state devices on the market use SM2246EN main control + MLC flash memory particles. Its USB3.1 reading and writing speeds can exceed 400MB/s, which is comparable to SATA SSDs, and support the smooth operation of WTG systems.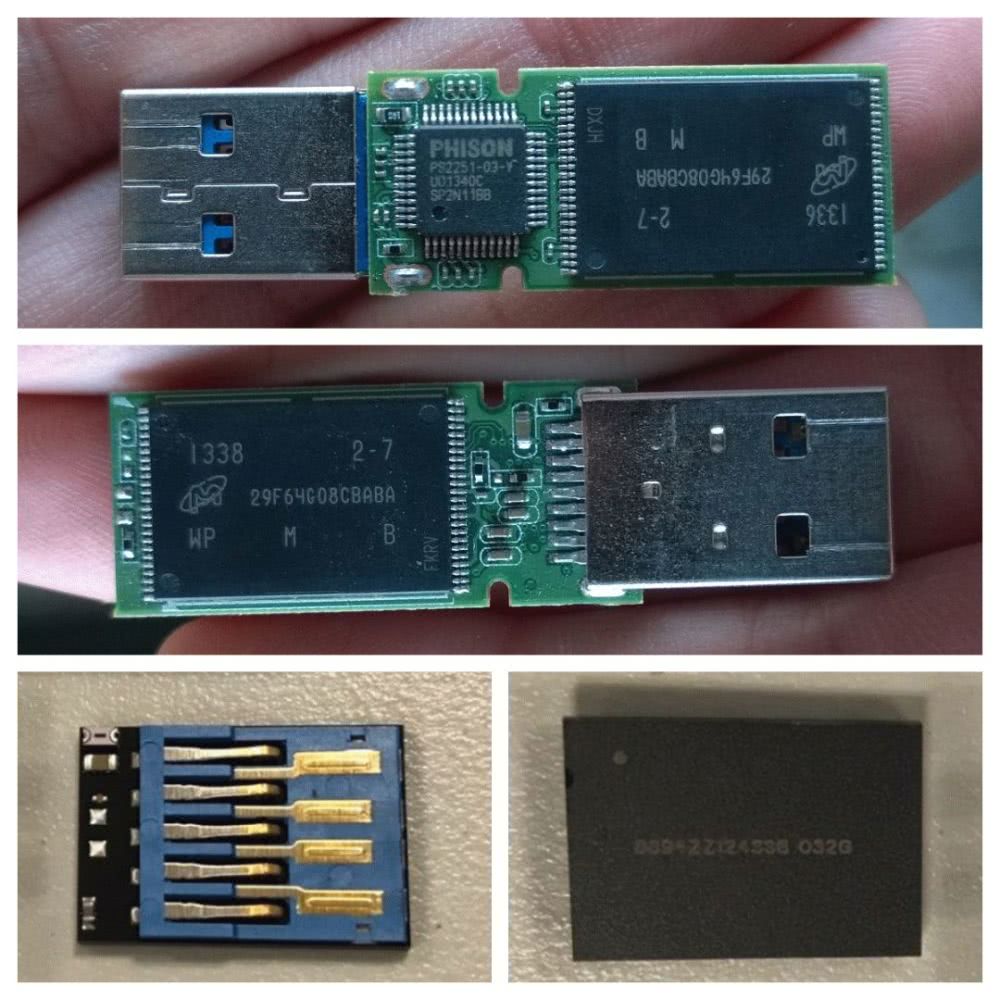 (The above one is Kingston G3, and the following is SanDisk CZ73, which integrates the main control and flash memory and the writing speed is only 16MB/s.)
Silicon Motion 2246 main control can be used in U disk or SSD products. Other U disk main controls cannot meet the SSD speed standard, and other SSD main controllers will not be used as U disks.
The ordinary U disk directly leads the USB3.0 interface from the main control chip, and the mobile hard disk converts the USB3.0 interface through the bridge chip. (The difference between the main control particles causes the difference in speeds. Many U disk reads and writes 4K small files extremely slow. The Silicon Motion SM3281 main control performs much better in this aspect, and the SSD main control SM2246 is even faster.)
Ordinary TLC flash memory particles are generally used for commercially available U disks, and MLC is used for high-end products, the particles are graded. SSDs have higher requirements for particle quality. Big brands genreally use self-sealing films, but some products may use black and white films or test films.
Therefore, USB 3.0 USB drives are also considered to be a solid state, small size, and easy to carry. Like SD card 8.0, USB 3.0 USB drives are currently not mainly used in PC/mobile phones, but are used in other fields on the market.
With the rise of 4K/8K TVs, mobile phones and cameras, these devices will take photos and videos with higher resolution and faster transmission rate, so mobile storage is very important.
Especially for professional photographers who takes ultra-high-quality photos or photography, and has a large number of RAW format photos continuous shooting needs, SD 8.0 memory card can provide great help.
This specification is also very helpful for game instruments like Nintendo Switch, because most of these devices will expand the built-in storage capacity of only 32GB through individual MicroSD slots. Through SD 8.0, it not only can increase the capacity, but also increase the overall Game loading and execution speed.
What's your opinion towards whether U disk can replace the solid state? Welcome to leave a message in the comment area.
Related knowledge of SD card shooting video
Specific knowledge about bulk SD Cards
How to get satisfied bulk Micro SD Card and SD Card?