January 15th 2023
what is Micro SD card?
Bulk Micro SD Card was formerly known as Trans-flash Card (TF card). It was officially renamed Micro SD Card in 2004 and was invented by SanDisk. It is mainly used in mobile phones.
Before Micro SD was invented, mobile phone manufacturers used embedded memory. Although this type of module is easy to install, it is unable to meet the actual demand of the trend, because its capacity is limited and there is no room for upgrade. Micro SD imitates the application model of the SIM card, that is, the same card can be used in different types of mobile phones, so that mobile phone manufacturers no longer have to worry about the plug-in design. Micro SD card can be called as a removable storage IC.
Micro SD card is an extremely small flash memory card whose format was originated from the creation of SanDisk. Originally, this memory card was called T-Flash, and later renamed Trans Flash. It was renamed Micro SD, because it was adopted by SD Association (SDA). Other memory cards that were adopted by SDA include Mini SD and SD card.Bulk Micro SD cards is mainly used in mobile phones, but due to its small size and its storage capacity has increased sharply, it has been used in GPS devices, portable music players and some flash memory disks. Its size is 15mm x 11mm x 1mm, which is almost the size of a fingernail, and is the smallest memory card currently available. It can also be connected to the SD card slot through an SD adapter card. At present, MicroSD cards provide 128MB, 256MB, 512MB, 1G, 2G, 4G, 8G, 16G, 32G, 64G, 128G capacity versions (During the MWC 2014 World Mobile Communications Conference, SanDisk broke the 64GB maximum capacity tradition of memory cards, and officially released a Micro SD XC memory card with a capacity of up to 128GB.
1 Function  2 Pin and function  3 Manufacturer support  4 Device  5 Main application fileds  6 Development trend  7 Series comparison
SDHC / SDXC
Function
SD card is a new generation memory device based on semiconductor flash memory. Because it is small in size, has fast data transmission speed, support hot-swap and has many other excellent characteristics, it is widely used in portable devices such as electronic dictionaries, mobile phones, digital cameras, and car navigation systems.
In the SD card 3.0 specification, the theoretical maximum capacity of the Bulk SD card can reach 2TB, the theoretical maximum reading and writing speed can reach 104MB/s (in the latest 4.10 specification, the maximum reading and writing speed has been increased to 312MB/s), and Micro SD card is the Bulk smallest SD card in the SD type. Its size is only 15mm*11mm*1mm. If we can apply these advantages of the SD card to automated test systems, such as storing diagnostic test data, satellite load data, and missile flying load data, then we can provide a new feasible solution for data storage in current automated test and control systems. It will have an irreplaceable role in the trend of miniaturization, large-capacity, and high-speed data storage.
Pins and functions
The main pins and functions are described as follows:
CLK: Clock signal, a command bit or data bit is transmitted in each clock cycle or by controller. Under the default speed mode of the SD bus, the frequency can vary from 0 to 25 MHz. The bus manager of the SD card can freely generate frequency from 0 to 25MHz without any restriction. Under the UHS-I speed mode, the clock frequency can reach up to 208M.
CMD: Command and response multiplexing pin, the command is sent by the controller to the SD card, which can be from the controller to a single SD card, or to all SD cards on the SD bus. The response is sent by the memory card to reply to the controller command. The response can come from a single card or all cards.
DAT0~3: Data cable, data can be transmitted from the card to the controller or from the controller to the card.
The pin definition of Bulk SD card is different from that of Bulk Micro SD (TF) card.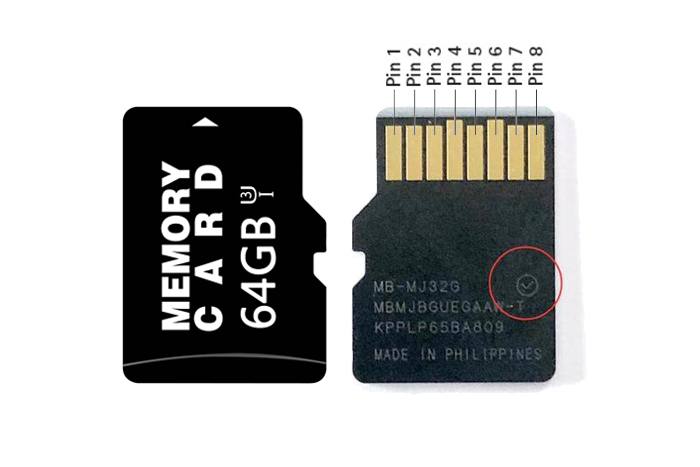 SD card: 1-data3,2-cmd,3-vss,4-vdd,5-clk,6-vss,7-data0,8-data1,9-data2.
TF card (SD mode): 1-data2,2-data3,3-cmd,4-vdd,5-clk,6-vss,7-data0,8-data1
TF card (SPI mode): 1-rsv,2-cs,3-di,4-vdd,5-sclk,6-vss,7-do,8-rsv
The register and its functions are described as follows: OCR (Operating Conditions Register) register: The 32-bit operating condition register mainly stores the VDD voltage range, and the SD card operating voltage range is 2~3.6V.
CID (Card IDentification Register) register: The length of the card identification code register is 16 bytes. It stores the unique identification number of the SD card. This number cannot be modified once the card manufacturer has programmed it.
CSD (Card-Specific Data Register) register: The card specific data register contains the necessary configuration information needed when accessing the card data.
SCR (SD Card Configuration Register) register: SD card configuration register (SCR) provides some special features of SD card. The length of this register is 64 bits. The content of this register is set by the manufacturer in the factory.
RCA (Relative Card Address) register: The relative card address register is a 16-bit writable address register, and the controller can select the corresponding SD card by selecting an address.
DSR (Driver Stage Register) register: driver stage register is an optional register. It is used to configure the driver output of the card.
Interface controller:
It is mainly used to control and manage the internal storage core. It receives commands from users to control and set, reply to the received commands sent by the user, and respond according to the commands to perform operations such as data reading and writing.
Internal storage medium:
Flash block for data memory storage.
Manufacturer support
The format of this memory card is mainly supported by mobile phone manufacturers. It was invented by SanDisk. Motorola was the first company to use the Micro SD format. And Taiwan International Avionics uses Micro SD for built-in GPS map to cooperate with their GPS receiving equipment.
Since Micro SD is smaller in size and can be converted to Mini SD and ordinary SD cards, almost all mainstream manufacturers support Micro SD, and the slightly larger MiniSD card is now rarely used.
Device
The Micro SD card can be used in devices that support SD cards when inserted into an SD card adapter. This adapter has been included for free in the Micro SD box to increase the compatibility of the Micro SD card. SanDisk has created a support list for some mobile phones, digital cameras, camcorders and music players that support the Micro SD card format.
Main application fields
Bulk Micro SD card is mainly used in mobile phones and is a necessity for feature phones. 2GB is its standard capacity. In 2011, Micro SD card with 1GB capacity was the mainstream, and it was basically replaced by 2GB capacity in 2012.Except from Powerchip, the mainstream OEMs has all stopped producing 8GB wafers. For manufacturers who need to bundle small-capacity Micro SD cards, they need to find a balance between price, capacity, and supply. When the price increase of Micro SD card matches with the increase of its capacity, manufacturers tend to bundle high-capacity memory cards with 2GB and above capacity, to increase customer operation space, and stimulate consumers urge to buy. For end consumers, if the price is similar, they will be easier to accept high-capacity products.
Since the rise of smart phones, the pattern of the mobile phone market has begun to change. In the past two years, smart phones were mainly positioned at high-end market, so their market share in the mobile phone market was not to big because of their higher prices. After mobile phone manufacturers start to mainly promote smart phones in 2011, the market share of feature phones began to be eroded.
In terms of smart phone storage capacity, high-end smart phones promoted by international manufacturers such as Apple, Samsung, and HTC generally use 8GB/16GB eMMC+4Gb LPDDR II or above as their memory, which is sufficient. However, if external storage is required, the capacity demand will be even higher, at least 4GB or more. Generally, smartphones with Android operating systems at a price of 1,000 yuan or below mainly use 4Gb SLC+4Gb LPDDR I as the embedded storage, and 2GB storage capacity alone is not enough.
Generally, it requires more than 1GB of capacity to install a navigator alone on a mobile phone. 2GB of storage is far from enough, if you store photos, music, videos and 2 high-definition movies. A 720P high-definition movie already needs to occupy more than 1GB flash memory. 2GB flash memory card as external storage for smart phones is still not enough. Nowadays, mobile navigation is a standard application for smart phones. Obviously, for smart phone consumers, the built-in storage capacity can no longer meet their demand.
Micro SD card can just solve the problem of insufficient capacity. If you only equip your device with a 2GB or less card, it will not solve the problem of insufficient capacity. Only a flash memory card with a higher capacity (4GB/8GB) can meet the demand, so it is obvious that consumers will turn to high capacity memory cards.
The capacity of the SD card used in the camera can no longer meet the needs of consumers too. Generally, a photo with 10 million pixels occupies about 4MB of space. A 2GB memory card can only store 500 pieces, which may be full after two days of travel. So now consumers do not have the highest requirements for storage capacity, but only higher requirements.
Besides, Bulk Micro SD cards is also used in low-price tablet computers, MP3/MP4, e-books, navigators and other terminal devices, but these devices have relatively high or relatively narrow storage requirements, so they basically do not use cards with 2GB or less capacity. They are not helpful to the sales of 2GB products. Now that 1080P is already the standard decoding configuration, because tablets and MP4 need to be decoded in HD, so 2GB capacity is far from enough.
Although 2GB capacity is about to be eliminated by the mainstream mobile storage market, this does not mean that 2GB capacity will have no market space for development immediately. Some low capacity flash memory cards may also replace some current non-environmental friendly and easily damaged storage media like CDs, VCDs, etc.. They may show up in the form of content cards for system drives, games, music albums, and e-books. However, these markets are more price sensitive and also depend on the support from original manufacturer for 2GB cards. However, we believe 2GB Micro SD cards will disappear eventually.
Development trend
The SD card specification was proposed by the SD Association. The SD Association is funded by Panasonic, Toshiba and SanDisk, so America and Japan have always played the leading role in SD card technology. Micro SD card uses the same specification as standard SD card. In the SD 3.0 specification proposed in 2009, the SD Association proposed the UHS-I (Ultra High Speed ​​1st Generation) speed standard. Under this speed standard, the SD card can support reading and writing speeds of up to 104MB/S. At the same time, the new generation of standard SD cards, SDXC cards, have increased the maximum capacity of SD cards from 32GB to 2TB, enabling SD cards to meet the development needs of the big data era. In the 4.10 specification proposed in June 2013, the UHS-II speed standard was also proposed, and the theoretical reading and writing speed of the SD card was increased to 312MB/S, so that the SD card can meet the requirements of high-speed data transmission. Therefore, the SD card have a broad application prospect in the future development.
The famous American memory card manufacturer Lexar has produced SD cards with a capacity of up to 256G, and the reading and writing speed of this card can reach 60MB/s. The super-speed SD card produced by SanDisk Corporation that supports SD3.0 specification can reach a reading speed of 95MB/s and a writing speed of 90MB/s. At the same time, the company also produced corresponding high-speed card readers. In this year (May 2014), they also launched an extreme ultra-speed SD card that supports SD4.0 specifications. Its reading speed can reach an astonishing 280MB/s, and the writing speed has reached 250MB/s. In the PC interface, USB2.0 has become its bottleneck, it must use USB3.0 interface to fully support the performance of high-speed SD card reader and SD card. But at present, this high-speed SD card has not been widely used in automated test systems. In China, only a few Taiwanese companies such as ADATA and Silicon Power Computer & Communications produce SD cards, and the reading and writing speeds of the SD card are still around 90MB/s. They do not have the ability to produce SD cards that support UHS-II speed specification proposed in the SD4.0 specification. They are one generation behind foreign companies. The ultra-speed SD card technology and market are mainly controlled by the United States and Japan.
With the development of science and technology, we have entered the era of big data, and memory cards are also developing toward larger capacities and higher speeds. In industrial applications, from the previous VXI bus to the PXI bus architecture, lightweight and compact devices are becoming more and more popular. At present, small size, large capacity data storage and high speed transmission have also become the bottleneck of many solutions. So, in order to adapt to the development of the era, the SD Association has also successively proposed new specifications to enable SD cards to support larger capacities and higher transmission rates. The association strives to improve the technology for small size micro SDs.
Series comparison
SD card
The Secure Digital card is abbreviated as SD card. Literally, this card is a secure card. It performs better than CF card and the earlier SM card in terms of security. It is a brand-new memory card product jointly developed by Japan's Panasonic, Toshiba and SanDisk. Its biggest feature is to ensure the safety and confidentiality of data through the encryption function. SD card can be seen as an upgrade of MMC in many ways. Both have the same appearance and working method, except that MMC card is slightly thinner, but machines that support SD card devices can all support MMC cards. Its external dimension size is 32mm × 24mm × 2.1mm.
micro SD
The microSD card standard was formulated by the SD Association in 2005 with reference to the relevant standards of T-Flash. T-Flash cards and microSD cards are compatible with each other. Compared with the miniSD card, microSD card is more compact, with a size of 11mm×15mm×1.4mm, which is only about a quarter of the standard SD card. It is the smallest memory card in the market.
SDHC
SDHC is the abbreviation of "Secure Digital High Capacity". In May 2006, SD Association released the latest version of the SD 2.0 system specification, which stipulates that SDHC is an SD card that complies with the new specification and has a capacity greater than 2GB and less than or equal to 32GB.
As the successor of the SD card, the main feature of SDHC is that the file format has been upgraded from the previous FAT12 and FAT16 to FAT32, and it supports up to 32GB capacity. At the same time, the transmission speed is redefined as Class2 (2MB/sec), Class4 (4MB/sec), Class6 (6MB/sec), etc. High-speed SD card can support real-time storage of high-resolution video recording.
The external size of SDHC card is 32×24×2.1mm (length × width × height). Like SD card, copyright protection functions are the same as before. However, since the file system has changed, SD devices that previously only support FAT12/16 format may not be compatible, but it support FAT32 (SDHC) machines, which can read the existing SD cards in FAT12/16 format.
All SD cards with a capacity greater than 2G must comply with the SDHC specification. The specification states that the SDHC must at least meet the Class 2 speed rating, and there must be an SDHC logo and a speed rating logo on the card.
There are some brands on the market who provide 4GB or higher capacity SD cards that do not meet the above conditions. For example, some products lack SDHC logo or speed class logo. These memory cards cannot be called SDHC cards. Strictly speaking, they are not approved by the SD Association. These types of cards may have compatibility problems with the device when they are used.
SDXC
The SD Association demonstrated a 2TB SDXC memory card (SD eXtended Capacity) at CES 2009.
SDXC not only has large capacity, but also have good data transmission speed. According to the introduction, its expected maximum transmission speed can reach 300MB/s. With a large-capacity memory card, people who used to use NDS card, memory stick or other devices can use SD card instead, but its data security performance is temporarily unclear. This SDXC memory card uses NAND flash memory chips and Microsoft's exFAT file system (vista's new file system).
(1) The current maximum capacity of SDXC memory cards can reach 64GB. The theoretical capacity is 2TB.
(2) Support UHS 104, a new ultra high speed SD interface specification. The highest standard of the new SD memory card standard Ver.3.00 can achieve a bus transfer speed of 104MB per second on the SD interface. Thus it can achieve a maximum writing speed of 35MB per second and a maximum reading speed of 60MB per second.
(3) UHS104 provides traditional SD interface – 3.3V DS (25MHz)/HS (50MHz). The new SDHC memory card that supports UHS104 is compatible with existing SDHC corresponding equipment.
(4) SDXC memory cards are only compatible with SDXC corresponding devices with exFAT file system. It cannot be used for SD or SDHC corresponding devices.
(5) Adopt the most reliable CPRM copyright protection technology.
(6) UHS104 is a new ultra high speed interface specification. Its data bus transfer rate is 104MB per second. This is the highest standard in the new SD memory card standard Ver.3.00.
(7) SDXC memory card is the next-generation SD memory card standard defined by the SD Association in April 2009, to meets the growing demand for large capacity storage media and provides faster data transfer rates for rich storage applications. Compared with SDHC memory card standard that provides 4GB to 32GB capacity, the new SDXC memory card standard can achieve a capacity that exceeds 32GB, the maximum capacity can reach up to 2TB (TB: terabyte, trillion bytes, 1TB=1024GB).