January 15th 2023
Industrial SD Card & Micro SD Memory Card
ADATA releases rare SLC flash microSD card: low performance but solid
Many people miss the SLC flash memory, which has basically become a legend nowadays. From MLC, TLC to QLC, we can rarely see SLC products except for special occasions. If you need SD cards that are solid, you could look for one SLC flash memory SD card.
Today, ADATA has released a microSD memory card based on SLC flash memory, the model is "IUDD362", and is aimed at the industrial field.
The natural shortcoming is the low density of SLC flash memory, which makes this microSD card only capable in 1GB, 2GB, 4GB, and 8GB capacity. It did not mention the vendor of the flash memory.
The performance is a bit horrible. The reading and writing speed are only 20-30MB/s and 15-25MB/s, respectively. But for industrial products, the performance comes second, the solidness is the most important thing.
ADATA said that its main control (also does not know the actual model) supports ECC, SMART, failure prevention, wear balancing, flash memory protection, hardware power-loss detection, secure erasure, etc., making the degree of stability and reliability as high as possible, the mean time between failure also reached 3 million hours.
In terms of environment, it can work normally between -40 ℃ to 85 ℃, the storage temperature is between -50 ℃ to 95 ℃, and the power consumption is only 0.6W.
Because it is an industrial-grade product, it is not available on daily retail market, but if you have special needs for reliability, you can still pay attention to it.
Japan's TDK Corporation introduces industrial-grade SD / MicroSD cards with SLC flash memory
Compared to the MLC flash memory that is very popular, SLC is quite rare. Only a few consumer SSDs use SLC flash memory. Super-speed SLC SSDs still have no market. SLC flash memory were occasionally used in U disk products, such as the UE3 series of ORICO, but the price is also higher.
Even so, SLC is still indispensable in some applications that require high reliability, even for small parts such as SD cards. Japan's TDK Corporation recently launched an SD/MircoSD card using SLC flash memory, but it is only faces the industrial sector. It is impossible for civil consumer market to accept this kind of product in large amount.
This SD card model is MGBBA, the MicroSD card model is MUGBA, the capacity is 512MB-16GB (the capacity is not suitable for the consumer market, the maximum 16GB is still a bit small), the speed achieves Class 10 (use high-endurance SLC flash memory, and add TDK's own high-reliability technology, it supports accidental power failure protection, and ECC error correction is also increased to 16bit.
INNODISK industrial SD card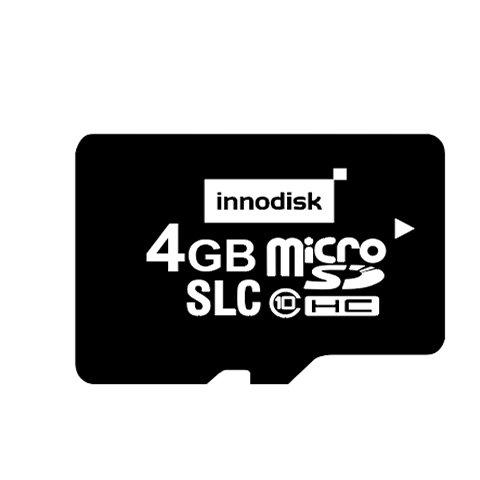 The Innodisk Industrial SD Card 3.0 series is specially designed for industrial PC and embedded applications. The 3.0 series SD card has a built-in ECC function that can help detect and correct errors during data transmission. It is also compatible with SD 1.1 and SD 2.0 standards, and supports SDHC Class 10 and SPI modes. It has reading interference management and power failure management to ensure reliability and durability. The service life is up to 3 million hours and the storage temperature range is -55 °C to +95 °C.
Innodisk industrial SD card 3.0 series offers a wide range of capacities from 128MB to 32GB in SLC NAND flash memory, and 8GB to 128GB in MLC NAND flash memory, which fully meets SD3.0 and SD2.0 specifications.
With its low power consumption and the aforementioned features, the Innodisk Industrial SD Card 3.0 series can be used in industrial automation, SBC (Single Board Computer), medical equipment, infotainment and mobile applications.
TOPSSD Industrial SD Card SD Memory Card

(1) Commercial SD cards can only be used as storage devices, while industrial SD cards can be used to install operating systems.
(2) Operating temperature: Industrial SD card: -40°C to 85°C;
(3) Flash chip type: Most industrial SD cards are SLC (single level cell). Industrial SD cards are more stable and durable.
TOPSSD industrial SD card is the most reliable and durable flash memory product on the market today. The product uses the highest quality SLC NAND, suitable for applications that require data integrity and 100% uptime.
TOPSSD provides a variety of industrial-grade SD cards to meet the needs of different application. Each product has two options: normal temperature and wide temperature. The products from Pro series also support many special functions, including military level data deletion, writing protection, security protection, card locking, etc. If you need a special solution, please contact us. 18922894589 Tian Sheng
The function of TOPSSD industrial SD card
Small in size, rugged, very reliable, comply with SD spercifica flash storage
Can select series that support additional functions such as writing protection and CTPurge
Why micro SD card choose SLC? – _Blog_hugdiy.com
How to get satisfied bulk Micro SD Card and SD Card?
How to produce Bulk Micro SD Card by Wafers …