January 16th 2023
Kioxia has successfully allowed HLC flash memory to function properly under liquid nitrogen environment
After separated from Toshiba, Kioxia now only focuses on making flash memory products. After announcing PLC (5 bits of data per cell) flash memory for the first time in 2019, KIOXIA demonstrated its research results on HLC (6 bits of data per cell) and OLC (storage per cell) at the IEEE Electronic Device Technology and Manufacturing Conference (EDTM) this year.
2021 Copyright by Akira fukuda
Flash memory uses electrons to store data. SLC flash memory only requires two threshold voltages to distinguish between 0 (programming state) and 1 (erasing state) to store 1-bit data. MLC that stores 2-bit data, requires four threshold voltages to distinguish 00, 01, 10, and 11. When it comes to HLC that each cell stores 6-bit data, it needs as many as 64 threshold voltages to control. It would make you crazy by only look at the picture below. It is not difficult to realize how difficult it is to maintain data and correct errors.
2021 Copyright by Akira fukuda
The existing technical condition cannot allow HLC flash memory to function properly under normal temperature conditions, or we should say it can be constructed, but is unable to use (the lifespan is too short and there are too many data errors). The following table shows the erasing and writing life of different types of flash memory. 3D QLC flash memory can be erased and writen 300 to 1000 times. The lifespan of PLC flash memory that has not yet been mass-produced is expected to be less than 300 times, HLC is estimated to be less than 100 times, and OLC is expected to be less than 50 times…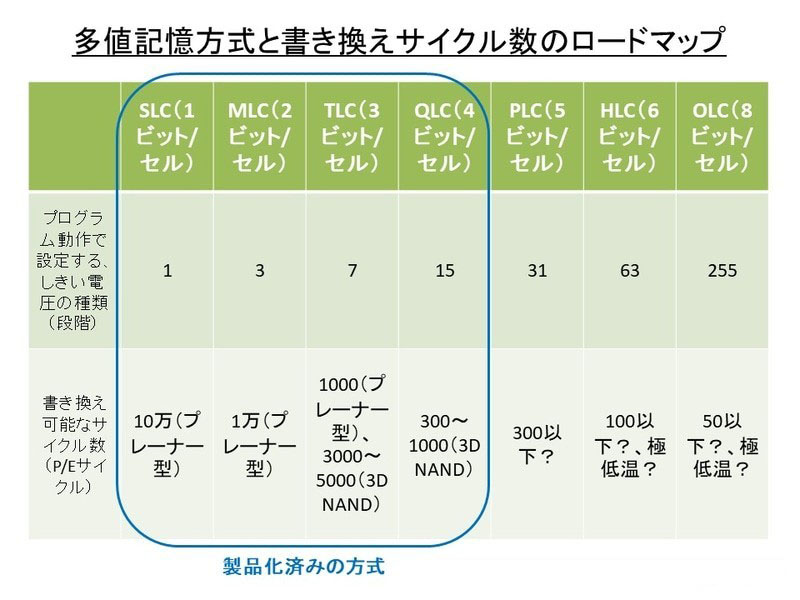 2021 Copyright by Akira fukuda
Kioxia's method is to make flash memory work in a liquid nitrogen environment. The extremely low temperature (-196 degrees) can reduce the requirement for the tunnel insulating film, lower the voltage requirement and reduce the wear and tear of writing on the flash memory. As a result, the noise when reading is significantly reduced, the writing life is prolonged, and data storage time after power failure is increased.
2021 Copyright by Akira fukuda
Kioxia allows HLC flash memory to achieve a lifespan of 1,000 erasing and writing in extremely low temperatures. After considering the cost of refrigeration, Kioxia believes that using HLC and OLC flash memory in a liquid nitrogen environment still has a cost advantage compared to using QLC flash memory under normal temperature conditions. But these studies are currently carried out in a laboratory environment, it still has a long way to go before commercialization. If the future 6bit/cell HLC cannot reach a considerable erasing and writing lifespan under room temperature, the 5bit/cell PLC may become the end of the development of multi-level flash memory.