January 16th 2023
The SSD market reaction went crazy. How did this factory achieve a daily production capacity of 30K? After selling Kioxia, Toshiba went on a shopping spree, but its strategy has changed
usb thumb drive once used to be a safe haven for many secrets, and also the home of many memories:
It contains college students' graduation paper, programmer's code package, indoorsmen's favorites movies… etc.
Because it is small, cheap, and has a large storage capacity, it has become the main tool for data backup and file transmission.
What's more important is that usb thumb drive is regarded as the only original invention patent owened by the Chinese in the field of computer storage for the last two decades.
In the past 20 years, every bulk USB flash drive produced by any global USB flash drive manufacturers has to pay patent fees to this company.
While everyone dispute all those kinds of patent fees charged by Microsoft, we also got to experience how great collecting patent fee is in usb thumb drive. Even international industry leaders like Sony, Toshiba, Kingston and so on have to step baak and hand in handsome amount of patent fee.
This company is Shenzhen Netac Technology. It can be said that Netac has been relying on this "money cow" for the last 20 years, but now this easy money making way is gone forever!
chapter 1
Memories are always great. Nowadays, with the rapid development of cloud storage and the increasing capacity of mobile phones, it is an indisputable fact that we use USB flash drives less frequently.
usb thumb drive is the abbreviation of USB flash drive, which refers to the micro high-capacity mobile storage product that has USB interface but without physical drive.
The name of the USB flash drive is very foreign, but it is really "Made in China".
In 1999, the founders of Netac Technology, Deng Guoshun and Cheng Xiaohua, jointly developed the world's first flash drive and applied for a patent (patent number: ZL99117225.6, hereinafter referred to as 99 patent). They named it usb thumb drive. This invention has filled up the patent blank in the Chinese computer storage invention field.
According to regulations, the term of invention patent rights is twenty years, and November 14, 2019 is the last day of patent validity.
Which means that the "money cow" that Netac has relied on for 20 years is now gone, and the days that Netac can rest and wait for patent fee collecting are gone as well.
According to Netac's 2018 financial report, its revenue in last year was 970 million yuan and its net profit was 64.5 million yuan. The net profit margin does not seem to be high, but 36.29 million yuan comes from patent licensing, and the gross profit margin of this part is 100%. It shows how important licensing profits is to Netac.
"First class companies sell standards, second class companies sell patents, third class companies sell products, and fourth class companies sell hard work." Huawei is has made Chinese people proud and gained their love because it is currently participating in the development of 5G standards. This also shows that technology is the highest productivity.
The founder of Netac Technology, Deng Guoshun, was a student with high education. In 1985, he was admitted to Sun Yat-sen University and majored in computer. After graduation, he went to the Chinese Academy of Sciences to study for a master's degree. In 1993, he went to work for a Singapore software company.
In 1999, Deng Guoshun returned to China after finish his study in Singapore, and founded Netac Technology in Shenzhen and filed a patent application for usb thumb drive on November 14. The full name is "Quick Lightning Sub-type External Storage Method and Device for Data Processing System "(That is, the 99 patent).
With this patent, Netac is believed to have filled the 20-year gap in invention patents in the domestic computer storage field, and is known as China's first original invention patent in the IT industry.
In July 2002, this patent was officially authorized by the State Intellectual Property Office. Since then, Netac has obtained a patent for basic invention of flash drives authorized by the US National Patent Office (US Patent No. 6,829,672).
Although Israel's M-Systems Company and Singapore's Trek Company have filed disagreement, it was finally determined that Netac was the world's first inventor of a USB flash drive.
Therefore, Deng Guoshun is known as the "father of usb thumb drive."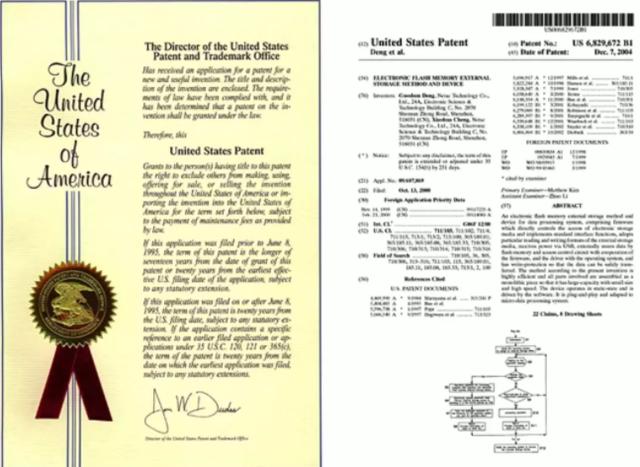 Chapter two
At the time when the network was not so common, the usb thumb drive was a necessity for office work, and Netac has been listed as a recommended product by IBM since 2000.
What's more awesome is that Netac not only owned the technology patent of USB flash drive, but also owned the trademark patent of "USB Flash Drive".
With these basic patent protections, Netac gained confidence. Since 2002, Netac gradually and systematically started patent rights protection strategies on a global scale, and successively launched patent wars against various usb thumb drive manufacturers.
In 2002, Netac initiated a lawsuit against Huaqi Information, claiming their "Aigo" brand USB flash drive constituted patent infringement. This case was called "China's first IT intellectual property case."
Since then, Netac has sued a number of usb thumb drive manufacturers on court, including Sony, Kingston, and PNY, etc..
In 2004, Netac sued the electronics giant Sony's subcompany in Wuxi in China, and they settled two years later.
In 2005, nine companies jointly applied to the State Intellectual Property Office to invalidate Netac's patent, but failed terribly…
In 2006, Netac sued Sony for patent infringement, and Sony compensated 10 million US dollars in the end. Netac then sued PNY, an old American storage company in 2006.
In those days, few Chinese technology companies dare to go tough on American technology companies in the field of intellectual property rights. In 2008, PNY compensated 7.71 million US dollars… Netac's patent wars have never failed.
As the company that invented the world's first flash drive and won the global basic invention patent for flash drives, Netac has made a lot of money from this patent and made Sony, Kingston and other giants bow their heads.
According to statistics, from 2002 to 2008, Netac's patents won more than 10 lawsuits in China, Taiwan, and the United States.
Netac signed patent licensing agreements with well-known companies such as Toshiba and Kingston. Its patent income in the most recent quarter and the last three years were 10.41 million yuan, 28.13 million yuan, 40.09 million yuan, and 24.08 million yuan, respectively, and accounted for 3.79%, 9.37%, 16.50%, and 12.76% of the main business income, respectively.
Since Netac never stopped its patent lawsuits, many people joked that it makes a living on patent lawsuits.
However, the invention patent of usb thumb drive indeed brought huge profits to Netac. In January 2010, Netac was officially listed on the Growth Enterprise Market, known as "China's first mobile storage stock."
Chapter three
Netac has accumulated a total net profit of approximately 200 million yuan in the past nine years after its listing. Among these 9 years, the gross profit margin of patent licensing revenue has reached 100% in 5 years, and the number has also exceeded 98% in the other five years.
According to its financial report in 2018, Netac's patent licensing revenue was 36.28 million RMB, with a gross profit margin of 100%, and became the main support for Netac's performance.
It can be said that Netac Technology can easily gain nearly 200 million yuan only from the patent licensing business at almost no operating costs,.
However, nothing can last forever, Netac's good days of "lying and earning" have come to an end.
On November 14, Netac Technology announced that the application date of 99 patent was November 14, 1999.
According to No. 42 of the "Patent Law of the People's Republic of China": "The term of patent right for invention is 20 years, and the term of patent right for utility model and design patent is 10 years, both counted from the date of application." So, the expiration date of the 99 patent is November 14, 2019.
As the profitability of Netac's other businesses is declining each year, the patent operation business is becoming more and more important for Netac. Undoubtfully, the expiration of the company's core patents will have a significant impact on Netac's performance.
Data shows that Netac's investment in R&D is declining in recent years.
Netac's R&D expenditures in 2016, 2017, and 2018 are 16.7182 million yuan, 21.04 million yuan and 21.489 million yuan, respectively, accounting for 2.83%, 2.27%, and 2.22% of operating income, respectively. The amount of R&D expenditure was already small and its ratio is still decreasing.
According to its third quarter financial report of this year, Netac's R&D expenses in the first three quarters were 15.7955 million yuan, which was far less than the sales expenses of 20.7402 million yuan. It has lost its natural of being a R&D-based technology company.
The insufficient R&D investment recent years has also caused a serious loss of technical staff in Netac. Without talents, there will be no technology, and without technology, the company will lose its competitiveness. Therefore, the company's performance has plummeted, executives dumped stocks, and Netac has fallen into a vicious circle….
It is known that the two founders of Netac Technology, Deng Guoshun and Cheng Xiaohua, were the joint actual controllers of the company at the initial stage of the company's listing. But after a series of allotment and share reduction transactions, Cheng Xiaohua's shareholding ratio dropped to 4.47%, and has quitted from the company's board of directors. Deng Shuunguo's shareholding pledge rate was also as high as 84.72%.
What's even worse is that the trending new industries such as cloud storage, cloud computing, and mobile internet has become a serious threat to the mobile storage industry, the mobile storage industry market continues to shrink.
From the beginning of 2014, the overall usb thumb drive market began to decline. The shrinking of the industry caused about 10% of usb thumb drive manufacturers to transform into other industries. And many brands have suffered a sharp decline in income or even withdrawn from the market.
The sudden emergence of large-capacity mobile phones has become another "fatal injury" of usb thumb drive.The usb thumb drive that can only be used on computer has been replaced by the convenient mobile phone network terminal.
Therefore, the shrinking of the usb thumb drive market is inevitable:
On the one hand, usb thumb drive alternatives with similar functions have diverted some of the market share, and flash memory cards and portable SSDs have advantages that they are more suitable in usage needs;
Furthermore, cloud storage with payment is a trend, and the rise of online disks has met users' fast storage needs;
Finally, the ample built-in storage of mobile phones and the rise of other digital products are also storage tools that can replace usb thumb drive.
Although it is not very appropriate to use the term " fritter away a fortune" in this scenario, it can reflect the current situation of Netac to a certain extent.
Because usb thumb drive will not be eliminated shortly, but they are no longer necessity with the network construction. So, if Netac stop paying attention to research and development, it will have a difficult future.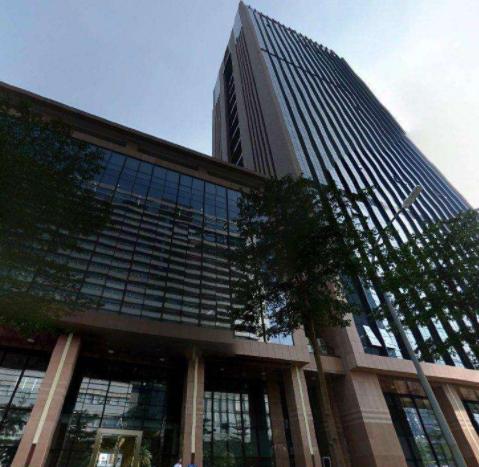 However, although Netac is facing a serious problem, it doesn't have to worry about bankrupt. Tencent still rents Netac's building. . . Will Tencent's landlords worry about living?