January 16th 2023
An in-depth explanation of the new X-NAND technology: QLC capacity and pricing + SLC speed
News on November 15 During the three-day Virtual Flash Summit 2020, the CEO and founder of NEO Semiconductor, Xu Zhian (Andy Hsu), gave a detailed speech to introduce the company's new X-NAND flash memory structure, which is expected to combine the speed of SLC flash memory with the density and low price of QLC.
NEO Semiconductor was established in San Jose, California in 2012 and has 20 memory-related patents. The company first disclosed its X-NAND technology in 2018 as a storage solution for AI and 5G emerging markets. Now, they have shared more details about this technology.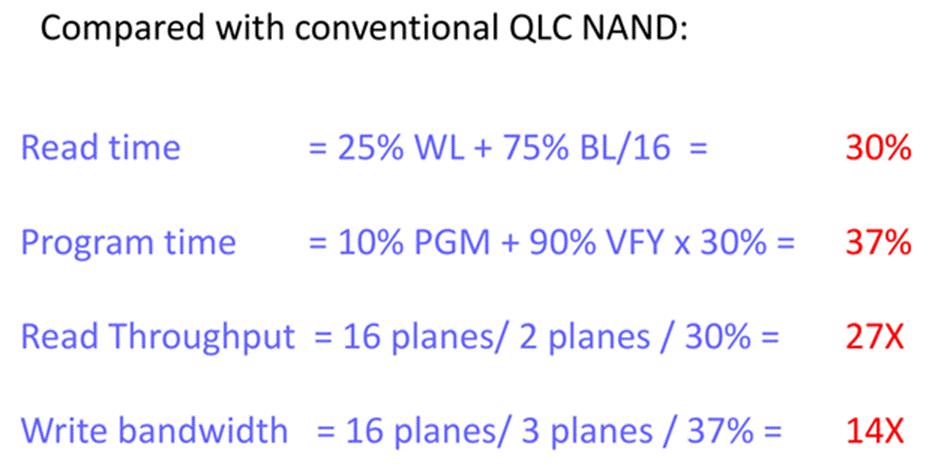 Source: Tom's Hardware, same below
X-NAND promises to provide top performance: The company claims that its random reading and writing workload is 3 times faster than QLC flash memory, and it is 27 times/14 times faster in sequential reading and writing workloads respectively (see the above figure).
This is achieved by smaller die, which is approximately only 37% of the size of a 16-plane design (see the figure below). This can be drafted flexibly, and the chip size can be reduced according to the required speed.
Nevertheless, X-NAND still provides a rather high degree of parallelism even though its size is smaller. Just like in a smart phone or M.2 hard drive. The company also claims that this goal can be achieved without compromising durability or cost, and its power consumption is quite low.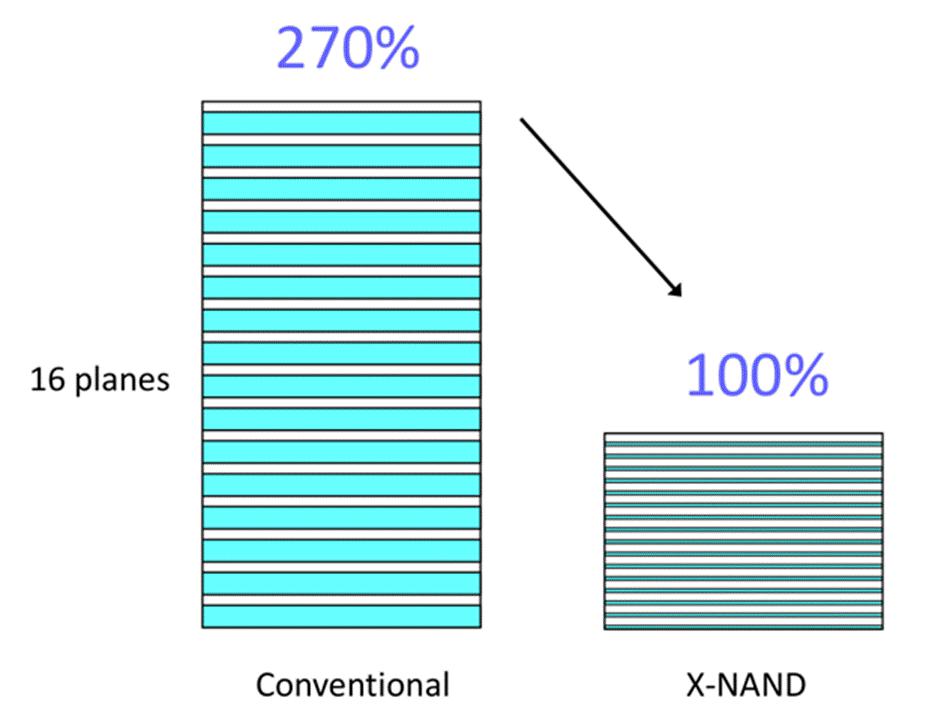 As the NAND market shifts to cheaper but slower flash memory to increase density (for example, from 3-bit TLC to 4-bit QLC), its performance and durability have essentially decreased, while its reading and writing latency has increased. This may reduce the sequential writing performance and has a huge impact on data center and NAS applications.
However, consumer-grade QLC hard drives rely heavily on SLC cache, which is composed of part of the local flash memory that operate in unit mode. But, it is difficult to have enough time for you to migrate writing data from SLC cache to the main QLC storage in enterprise workloads,.
Instead, X-NAND provides a way for flash memory to maintain SLC performance through simultaneous conduct SLC and QLC writing modes (see the figure below).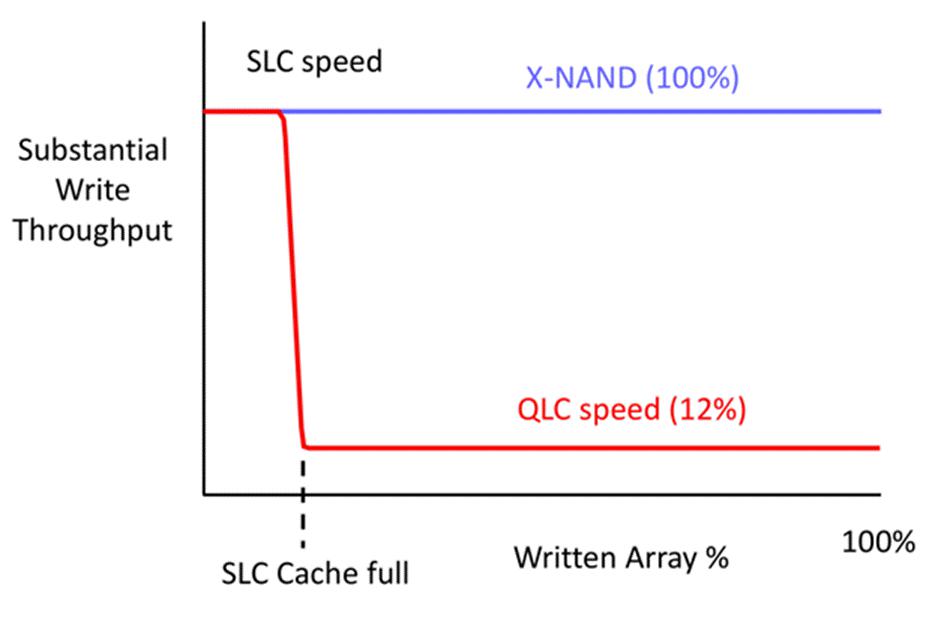 He pointed out that high-density flash memory is growing at an extremely fast rate, because Western Digital will occupy 50% shares of QLC by 2024.
His goal for X-NAND is to ensure that it uses the traditional NAND process, at least the tradition structure remains the same, so there will be no additional costs to base on the current NAND and use fast sampling as a solution for development.
This strategy aims to accelerate the application of QLC, especially for data centers, because the performance of flash no longer lags far behind I/O speed. In addition, the X-NAND programming and erasing strategy is designed to greatly improve its endurance and make its life longer than QLC flash memory (see figure below).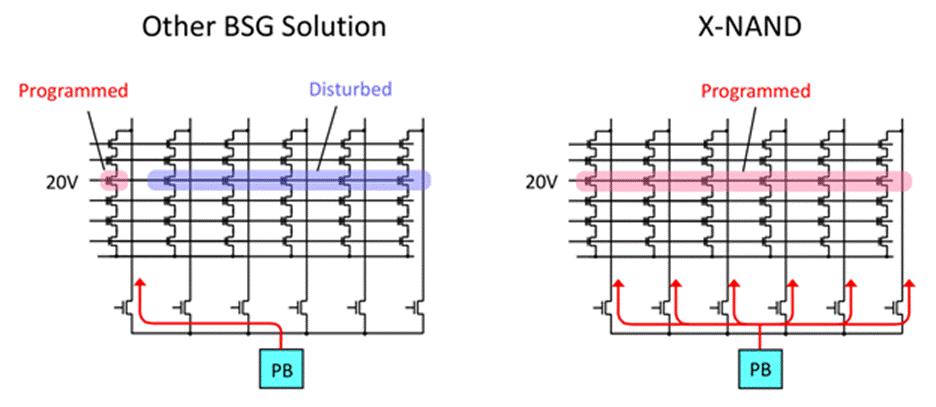 X-NAND realizes these characteristics by changing the 16KB page cache of each plane to 1KB page cache of each plane, but the size of the plane can be 16 times than the previous one.
A plane is the smallest unit of flash memory, and each flash die has one or more planes. The page cache stores data in transmission between the bus and flash memory, such as reading and writing data. The flash mode is divided into planes that contain bit lines or cell strings (see the figure above), so plane division can reduce the length of the bit lines, which helps improve performance.
When X-NAND is in the reading or verifying process, the corresponding setup time can be reduced by block the adjacent bit line (see the figure below). This further enhances the technology and improves writing performance.
X-NAND has six main characteristics: multi-bit row writing, multi-plane QLC programming, program suspension, multi-bl reading, single-latch QLC reading, and the SLC/QLC parallel programming mentioned above. Depending on the different implementation, this can greatly improve program throughput because multiple planes can be used in the programming sequence.
Multiple memory units are used so that SLC and QLC programming can be realized at the same time, and to ensure that the SLC page is never full, so data can be transferred to the QLC page at the SLC speed. The program allows the use of internally shared inter-page cache data lines or I/O buses to minimize additional delays. Reading is improved by using plane to latch the reading of each bit line, and the data can be renewed in a non-destructive way like DRAM due to the high capacitance.
Elinfor.com reminds that although the vision is very good, it may still take a long time to implement this technology in real life.
Scrapped after full set for 70 times? Analyze whether QLC SSD can be bought is safe to buy
Intel QLC SSD production exceeds 10 million!
The Quality of QLC SSD is unreliable?