January 16th 2023
MMC PLUS ATP memory cards
MMC
Since the size of traditional CF card is relatively large, in 1997, Germany company and the company who first launched CF card, SanDisk, jointly launched MMC (Multi Media Card) card. In January 1998, fourteen companies jointly established the MMC Association (Multi Media Card Association abbreviated as MMCA), which now has more than 84 members. The development target of MMC is mainly at digital images, music, mobile phones, PDAs, e-books, toys and other products. It claims to be the smallest Flash Memory storage card currently in the world, its size is only 32mm x 24mm x 1.4mm. Although it is thicker than SmartMedia, the overall volume is smaller than SmartMedia, and it is also lighter than SmartMedia, only 1.5 grams. MMC also implements storage unit and the controller on the card, and the intelligent controller ensures the compatibility and flexibility of MMC.
MMC memory card has two working modes, MMC and SPI. MMC mode is the standard default mode, with all the characteristics of MMC. SPI mode is the second optional mode in MMC memory cards. This mode is a subset of the MMC protocol and is mainly used for systems that only need a small amount of cards (usually 1) and low data transfer rates (compared with MMC protocol), this mode can minimize the design cost, but the performance is not as good as MMC.
MMC is designed as a low cost data platform and communication medium. Its interface design is very simple: only 7 pins! The cost of the interface is less than $0.5. In comparison, the interface costs of SmartMedia and Memory Stick are all more than $1. As for the interface, the power supply uses 3-pins, and the data operation only needs a 3-pin serial bus (SPI mode adds 1 pin to select chip).
The operating voltage of the MMC is between 2.7V to 3.6V, the writing/reading current is only 27mA and 23mA, so the power consumption is very low. Its reading and writing modes include streaming, multi-block and single-block. The minimum data transfer unit is block, and the default block size is 512 bytes.
RS MMC
RS MMC was launched in 2002 by the MMC Association. It is a memory card specially designed for multimedia products such as mobile phones. RS-MMC is much smaller than MMC, and it can be converted into a standard MMC card with a special adapter.
MMC PLUS
In September 2004, MMC Association launched MMC PLUS and MMC moboile. The size of MMC PLUS cards is the same as that of ordinary MMC cards, but have faster reading speed. Some manufacturers have also produced low-voltage MMC PLUS.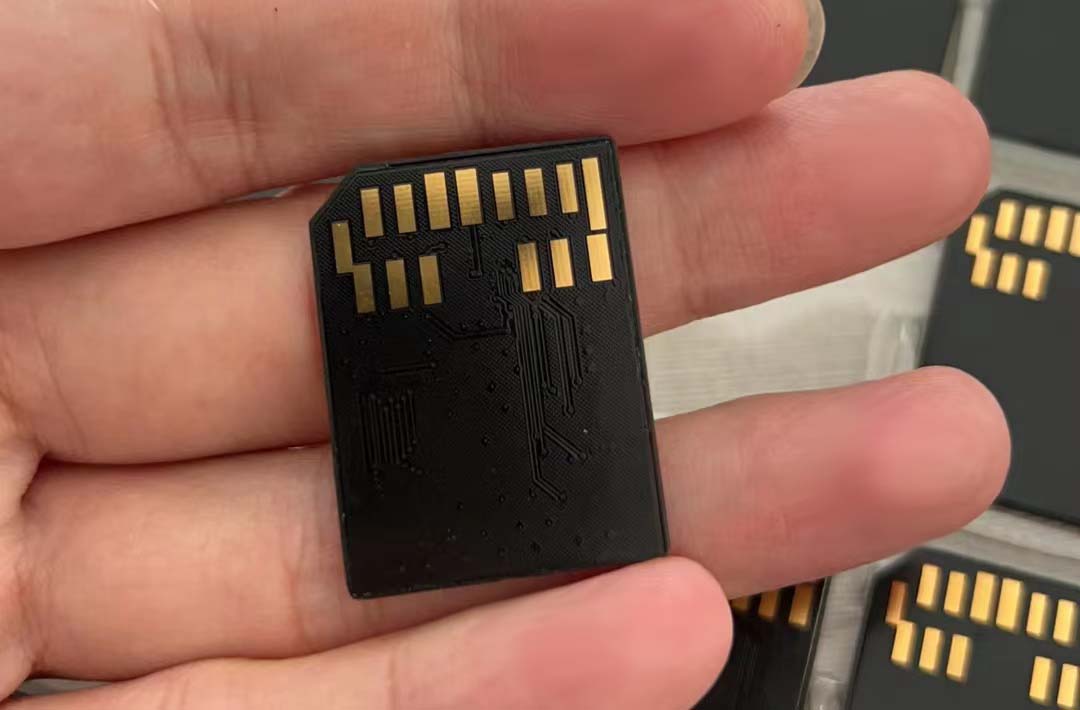 The most obvious difference between MMC Plus card and other card is the increase in pin count. Among the 7 pins of the original MMC card, only two of them are used for data transmission, so the speed is limited to a lower level. SD card uses 4 pins for data transmission, and the MMC Plus card specification supports data channel 8 times that of the original MMC. Thus, when the new MMC card works under 52MHz, x8 bit, it can achieve higher performance. The physical characteristics of MMC Plus cards are not different from MMC cards, and the specifications are also backward compatible. The working voltage is between 2.7V and 3.6V, so all devices that use SD cards, can also support MMC cards.
MMC PLUS ATP
The high-speed memory standard (version 4.x) allows wider bus widths (1 bit, 4 bit or 8 bit) and also moderately increases the clock frequency (from the previous maximum of 20MHz to 52MHz), allowing the highest data transfer rate to increase rapidly from the existing 2.5MB/s to 52MB/s. In addition to the greatly improved transfer rates, the MMCplus and MMCmobile standards are the first batch that support dual voltage capabilities. This enables memory card to not only work under the existing 2.7 to 3.6V voltage environment, but also work under a lower voltage range of 1.65 to 1.95V. Lower voltage means lower power consumption, thus longer battery life.
ATP's MMC Plus card is based on the MMC4.x standard, which not only breaks the 128MB upper limit of ordinary MMC cards in terms of capacity, but also doubles the transmission speed. Allegedly, the reading speed and writing speed can reach 20MB/s and 15MB/s, respectively, and is backward compatible. As long as devices support SD/MMC cards, they can also support MMC Plus cards.
MMC mobile
In order to obtain better power-saving performance, MMC Association has launched a memory card that not only can work under low voltage, but is also compatible with the original RS-MMC–MMC mobile. It can work under two voltage range, 1.65 to 1.95V and 2.7-3.6V. The theoretical transfer speed can reach up to 52MB/s. It is called dual voltage RS-MMC. The size of MMC mobile is exactly the same as that of RS-MMC card. The biggest difference is that MMC mobile has 13 gold fingers.
MMC micro
Compared with microSD card, the size of MMC micro is slightly larger. The size is 12mm×14mm×1.1mm. Same as MMC moboile, MMC micro supports dual voltage, so it is suitable for mobile phones and other handheld portable devices that require smaller size and longer battery life.