January 16th 2023
Interview with Mr. Shigeyuki Okamoto of Kioxia: Popularization of flash memory within only 10 years comes from persistent research and development
Flash memory was first proposed by Toshiba's Masuoka Fujio in 1984. NAND flash memory was developed by Toshiba in 1987. The original Toshiba memory was renamed to Kioxia in 2019, and for many years, Kioxia flash memory has had the second-largest market share worldwide. Flash memory has an advantage over other types of memory in that it is non-volatile, meaning that data is not lost in the event of a power outage and may be kept for a long period. This feature alone has been credited for revolutionizing the storage sector.
This year marks the 35th anniversary of Kioxia's creation of flash memory. We had the privilege of speaking with Mr. Shigeyuki Okamoto, Chairman and General Manager of Kioxia (China) Co., Ltd., about the advancement of flash memory and Toshiba's flash memory renamed to Kioxia on this particular occasion. We also inquired about the launch date for sixth-generation BiCS NAND flash memory products as well as the future growth of QLC.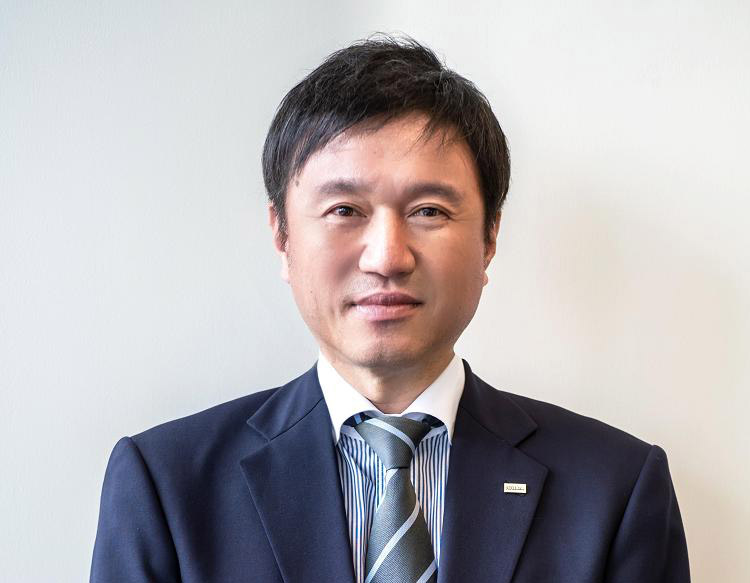 Mr. Shigeyuki Okamoto, Chairman and General Manager of Kioxia (China) Co., Ltd.
Flash memory popularized in just 10 years is the result of tireless research and development
From the IEDM conference in 1984, Fujio Masuoka, an engineer at Toshiba's ULSI Research Institute, put forth the idea of flash memory. Because of this, it only took more than 10 years for flash memory to be developed in many configurations including CF, MMC and PCMCIA. Hence, large-scale popularization. Mr. Shigeyuki Okamoto stated: "Kioxia has consistently researched and improved technologies in the 10 years after the discovery of flash memory, which is why flash memory has achieved such a quick development. By increasing the capacity and reducing the cost per bit, the market for digital cameras, smartphones, PCs, and data centers has been continuously expanded."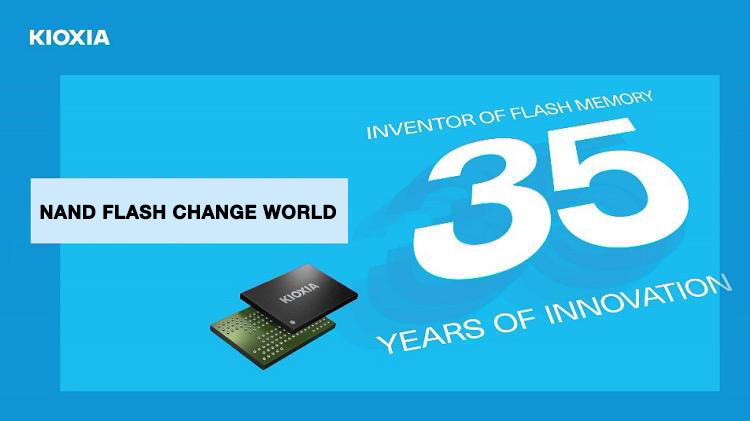 In addition, Mr. Shigeyuki Okamoto disclosed: "Kioxia has successively developed technologies that can realize large-capacity, and miniaturization technology, multi-value technology, and 3-dimensional technology. When the large-capacity of 2-dimensional NAND was about to exceed the physical limit, Kioxia, a professional flash memory producer, continued to support technology research and development and created a 3-dimensional flash memory despite enormous technical difficulties."
The new brand enlivens the SSD product line and creates a buzz among consumers
Mr. Shigeyuki Okamoto responded when we inquired about what transpired after the Toshiba memory's official name was changed to Kioxia in October 2019: "In addition to the brand name change, Kioxia has fully new brand colors, including light blue, rose red, yellow, light gray, light green, orange, etc. The colors are utilized in product packaging and label design, giving customers an excited experience."
The consumer-grade product line from Kioxia includes SSD, PSSD, memory cards, U disks, and others, used in computers, video cameras, mobile storage products, etc.
Mr. Shigeyuki Okamoto claims that Kioxia began selling solid-state drives (SSDs) in 2020 and mobile solid-state drives in 2021 to further expand the SSD product range. Kioxia has also started a number of marketing initiatives to raise brand awareness, such as taking part in trade shows and ChinaJoy EXPO, setting up official accounts on social networking sites, asking numerous celebrities to try out products, etc.
Since last year, PCIe 5.0 has started to dominate the market for enterprise-level storage goods. In addition, the consumer-grade motherboard chipset Z690 supports the PCIe 5.0 channel. In light of this, Kioxia swiftly took action and introduced the EDSFF solid state drive, the first PCIe 5.0 technology product in the market. It will be quite intriguing to see how Kioxia approaches the enterprise sector.
According to Mr. Shigeyuki Okamoto, Kioxia is always improving the planning of its SSD product line in order to fulfill the changing requirements of end users for enterprise- and data center-level products. Products of the Kioxia CD7 E3.S Series which Kioxia announced in 2021 utilize the PCIe 5.0 interface while also utilizing flash memory's benefits to produce an EDSFF form factor with a higher density than HDD, which is particularly useful for creating high-performance, high-density, and high-efficiency systems.
With the introduction of the Kioxia CD7 E3.S series, the standard 2.5-inch SSD form factor on the server was eliminated, performance was enhanced, and a new form factor for data storage, such as enterprise servers, was offered. Therefore, Kioxia is able to manage future data center architectures and is the first to get ready for the switch to the next standard.
Kioxia attempts to improve product performance with the launch of BiCS6 electronic devices the next year
We are aware that the storage density increases with the number of NAND chip layers. The sixth-generation BiCS NAND flash memory, which Kioxia and Western Digital jointly developed, recently achieved 162 layers. How soon will customers be able to purchase this sixth-generation BiCS NAND flash memory? Mr. Shigeyuki Okamoto's answer to this question is: "April saw the completion of the first phase of the Yokkaichi plant's seventh building, which will produce BiCS6. Construction of the production line with the manufacturing equipment moved into the factory building has already started. Electronic devices based on BiCS6 will be released in 2023."
Competitors' flash has 172 or even 192 layers. How does Kioxia look at the competing products?And how will it deal with them? According to Mr. Shigeyuki Okamoto, the more layers, the higher the flash memory density, and this will be very challenging to manufacture. Kioxia integrates new structural technologies including high density in the plane direction, super multi-valued (QLC, PLC), and CUA (Circuit under array) technology to enhance density and lower production costs in addition to the deposition technology that adds more layers. Although Kioxia's sixth-generation BiCS NAND flash memory technology has less layers than competitor products of the same generation, it aims to improve product performance through diverse technological combinations, making Kioxia products very competitive.
The QLC market will gradually grow, but the TLC market will still exist
After entering the SSD era, TLC replaces MLC and MLC is replaced by QLC. Will QLC eventually displace TCL as the industry standard? "We believe that large-capacity products with QLC must be used to keep the market expanding. SSDs equipped with QLC will accelerate the replacement of large-capacity HDDs. But due to the diverse performance of devices using flash memory, some memories, with their capacity and performance, still require TLC products to improve their performance. As a result, the QLC market will gradually grow." said Mr. Shigeyuki Okamoto.
As the inventor of flash memory, Kioxia has maintained its technological edge and years of R&D expertise to develop a variety of memory solutions for the industries and customers. These solutions are used in a variety of industries, including music, data centers, gaming, wearable technology, smartphones, tablets, and notebook computers, as well as car entertainment systems. They are closely related to our lives, and have helped change our lives as well as the world.