January 16th 2023
Canvas series SD cards are best choice for photographer and enthusiasts
As a photographer who has worked for many years, I know the importance of data security, so I have always been very cautious when choosing memory card: the brand must be a first-line brand. I also follow the principle of "do not put all your eggs in one basket" and adopt the "small capacity + high number of cards" principle. But with the trend of video content, more and more photographers around me have joined the "photo + video" team. You should know that the popular time-lapse photography and 4K video are all "storage killers": files with the size of dozens or even hundreds of gigabytes are burdens to both hard drives and wallets. In the video era, there are also new requirements for memory cards: the card not only need to have fast reading and writing speed, but also need to have large single memory card capacity. After all, both time-lapse photography or video shooting will not give you the chance to change cards during a single shooting process.
This time we got Kingston's new Canvas series SD memory cards that is specially made for professional photographers and photography enthusiasts. There are the 512GB version of Canvas Go! Plus (blue) and the 256GB version of Canvas React Plus (red), respectively. How is the specific usage experience of these two high-end SD cards that positioning for photographers and photography enthusiasts? let's take a look next.
Appearance and workmanship
In terms of packaging, both Kingston Canvas Go! Plus and Canvas React Plus use disposable paper packaging, which does not increase the additional cost, and eliminates the possibility of buying a used card .
After opening the package, the "gold finger" on the back of the card is quite shiny, which means this card is obviously just been produced. I tried to apply a little pressure on both ends of the Kingston Canvas series SD card (please don't imitate it), the card will be slightly bent, this means that a soft material with good toughness is used, and it is less likely to be damage than traditional hard plastic.
Among them, the higher-positioned 256GB version of Canvas React Plus (red) comes with a USB 3.2 Gen 1 specification card reader that supports UHS-II protocol. This is a good supplement for users who do not have a high-speed card reader on the computer.
As for the 512GB version of Canvas Go! Plus (blue), although not as fast as the 256GB version of Canvas React Plus (red), it can meet the requirements for normal high-speed RAW continuous shooting and 4K video shooting. Relatively speaking, Canvas Go! Plus (blue) is more cost effective.
Performance Testing
The reading and writing performance are very critical for camera memory card. A memory card with high-speed reading and writing performance can effectively shorten the waiting time for us when we wait for playback (card writing) after continuous shooting and copy (card reading) after shooting. It allows photographers not to miss exciting moments because of the "camera jam", and significantly improves the efficiency of editing work.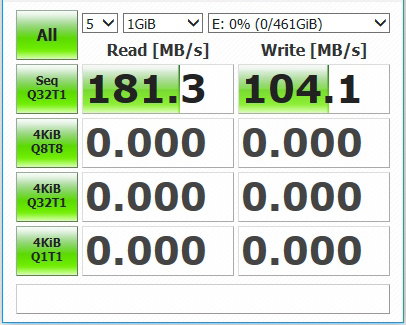 The actual measured reading and writing speed of 512GB version of Canvas Go!Plus (blue)
From the actual test performance, the 512GB version of Canvas Go! Plus (blue) clearly exceeds its nominal reading and writing speed. The performance of 181MB/s reading speed and 104MB/s writing speed is already the limit of UHS-I memory card. In terms of writing speed, it even reaches the level of some mid-end UHS-II memory cards, which can fully meet the requirements of most photographers and photography enthusiasts.
The actual measured reading and writing speed of 256GB version Canvas React Plus (red)
As for the 256GB version of Canvas React Plus (red), our measured reading speed has also reached 304MB/s and writing speed has reached 263MB/s. Its performance exceeds the reading and writing speed of the mobile hard disk, making it capable to meet the needs of professional photographers.
PS: This card plus Kingston MobileLite Plus SD card reader, can be used in daily EDC (Every Day Carry) and copy working files. It, in fact, can already replace the role of mobile solid-state hard drives.
Photographers use Kingston's high-speed and large-capacity Canvas series memory cards when shooting sports events, ecology, news records, and stages, together with the camera's high-speed continuous shooting mode, can significantly improve the success rate of shooting.
Evaluation summary

On the whole, Kingston's new generation of Canvas series SD cards have solid workmanship and details; the reading and writing speeds have reached the ceiling of their respective specifications, which allows photographers to shoot without jamming and work more efficiently; These cards both have large-capacity versions optional, very friendly for video shooting and time-lapse photography that shoots a large number of files in a single shot.
In addition, the Kingston Canvas series SD card also has four anti-design: waterproof, high and low temperature resistance, shock resistance, anti-airport X-ray. More importantly, all products in the series have a lifetime warranty, photographers can use it with greater ease.
In summary, Kingston's Canvas series SD cards have excellent performance, high reliability, and good cost performance. Whether you are professional photographers or photography enthusiasts, you can choose according to different needs. I attached the official Kingston guidance form in the end, hoping it is useful for you when make purchase.
Specific knowledge about bulk SD Cards
The details of SD Card (Development Archives)
How production process for MICRO SD Cards by Wafers?