January 16th 2023
The USB-IF has launched a new interface type – USB4. It is faster than all previous standard and only supports type C interface.
With the launch of Apple's M1 series of computers, a new interface type comes to the public sight, that is the USB4. The USB interface is the most successful, common, and popular interface today, bar none. Nowadays, almost all electronic devices are equipped with at least one USB interface.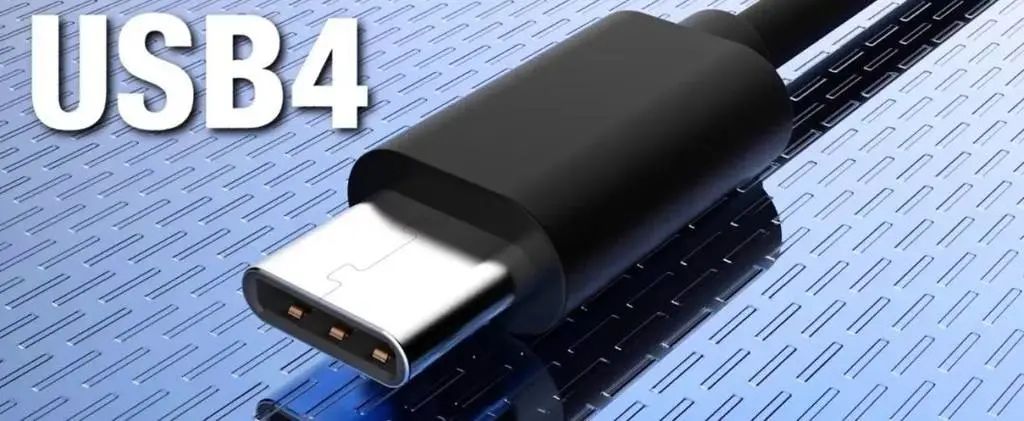 However, there are too many types of USB interfaces, and its version number are too confusing for many friends. Today we will try to clarify all these varieties of USB interfaces.
Many people's knowledge about the USB interface comes from the U disk. After all, "disks represent their name", U disks are portable storage devices like floppy disks and CDs with USB interfaces. The name is full of age.
Back in the 1990s, computers are available to home users from the commercial field at that time, and a computer was a standard configuration for a "modern family".
At that time, there was no USB interface on computers, and every computer has its own unique peripheral interface.
For example, mouse and keyboard have PS/2 interface, printer has COM interface, and monitor has VGA interface. In short, there are a lot of weird interfaces on a computer, and the interfaces are incompatible with each other. You are right, although the mouse and keyboard are both PS/2 interfaces, they are not compatible.
So the idea of a universal interface began to grow in that era. At that time, chip giant Intel took the lead and planned to develop an interface with faster transmission speed and, more importantly, better compatibility. The name of the interface was Universal Serial Bus, which is called USB in short, in what we are familiar with today.
However, the establishment of standards cannot solely depend on just one company. So, in 1994, Intel united with Microsoft, Compaq, IBM and other industry giants and established a USB Standardization Organization, referred to as USB-IF in short.
The role of this standardization organization is to promote the recognition of USB to more manufacturers and to develop USB transmission protocols.
In 1995, the first generation of USB interface USB 1.0 was officially released. With the common efforts of the hardware giant Intel and the software giant Microsoft, this USB interface has received extraordinary comments when it first came out. Its biggest feature is that it supports hot swap and instant plug-and-play.
Yes, before that, you must shut down your computer when connected or disconnected most hardware devices. It is almost like playing with fire when you hot swap a device while the computer is on.
But after the emergence of USB, when a new device is plugged into the computer, the computer hardware can automatically detect the new device, and the operating system can immediately load the corresponding driver to activate the new hardware immediately. This fully automated experience is very epic.
After USB 1.0, the USB Standardization Organization has successively introduced USB 2.0, USB 3.0 and USB 3.1 standards, and the transmission speed is getting faster and faster.
Today, the USB 1.0 interface has already become a history, and the 2.0, 3.0, 3.1 and 3.2 standards are still active in our daily life.
That is the problem.
Many people believe that USB 3.2 is definitely faster than USB 3.1, and USB 3.1 is definitely faster than USB 3.0. If you go shopping at some e-commerce platforms to buy a USB flash drive, some customer services will tell you that the USB flash drive in my store is USB 3.2 version, which is much faster than the USB 3.0 version next door, that is why my product is more expensive.
I will tell you the conclusion first that this is not the case. The content I am going to talk about below may be a little confusing, but if you learned it through, you may save a lot of money in the future.
The USB 2.0 standard was born in 2000. If you randomly pick up a USB cable, or look at the USB port on your computer and see a white or black plastic block inside, they are generally USB 2.0 ports.
It seems that its transmission rate is horrible now. Generally, its speed is only 480Mbps, and the actual transmission speed is only about 30M per second. It takes about 1 minute to copy 1G of contents.
USB 3.0 was officially released in 2018. The transmission rate has been greatly improved from 480Mbps to 5Gbps. This is a huge breakthrough numerically, and it is 10 times faster theoretically.
Although the actual performance is not so exaggerated, the transmission speed per second can easily exceed 100 megabytes. It only takes less than 10 seconds to copy the same 1G file.
So, it is certain that USB 3.0 is faster and better than 2.0. The color of the USB 3.0 data cable or the block in the interface is generally blue.
So, if we use a USB flash drive to copy large files, it is best to use the blue USB cable and plug it into the blue USB interface.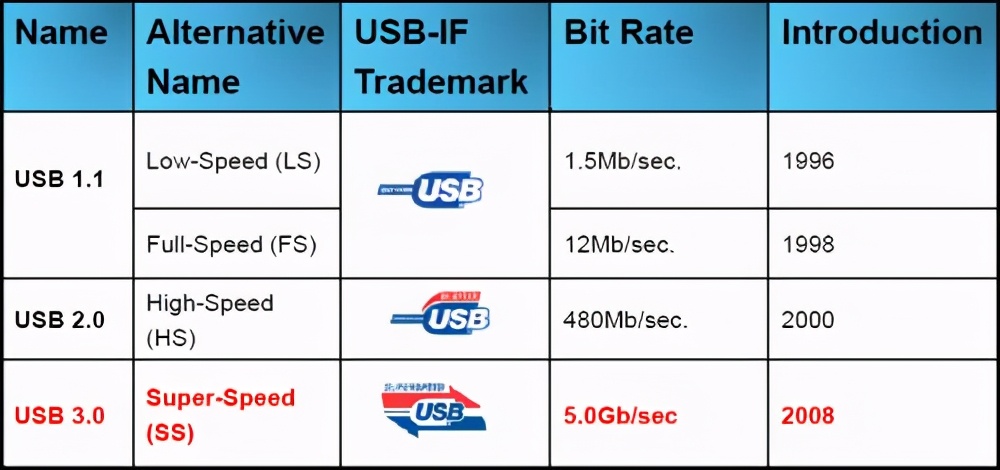 Everything is very simple and clear until 2013, when the USB Standardization Organization introduced USB 3.1. The interface rate of the new standard has doubled on the basis of USB 3.0, reaching 10Gbps. It was a good thing until USB-IF made it more complicated, because the organization renamed the USB interface.
The original USB 3.0 was renamed as USB 3.1 Gen 1 (first generation of USB 3.1), and the newly released USB 3.1 standard was renamed as USB 3.1 Gen 2 (second generation USB 3.1). 
Here is the important part. That is to say, since 2008, there is no such name as USB 3.0 in the standardized naming rules. At that time, if someone said that USB 3.1 is faster than USB 3.0, you would have to ask, is the USB 3.1 you talked about the first generation or the second generation?
If it is the first generation, then it is just the USB 3.0 with a new name. If it is the second generation, that is an awesome one!
It was not long after the chaos of naming has passed when the USB 3.2 standard came to our sight in 2017. Its maximum speed was increased to 20Gbps, which has doubled the second of USB 3.1 generation 2. After this, the USB-IF changed the naming standard again.
According to the latest specification, USB 3.1 no longer exist and is totally replaced by USB 3.2. The first generation of USB 3.1 was renamed as USB 3.2 Gen 1 (the first generation of USB 3.2);
The second-generation USB 3.1 was renamed as USB 3.2 Gen 2 (the second-generation USB 3.2);
The newly released USB 3.2 with the fastest 20Gbps interface rate, is now called USB 3.2 Gen 2×2 (double-speed second-generation USB 3.2).
Aren't you confused already?
In other words, that is to say that the USB 3.0, 3.1, and 3.2 we see on the market today are most likely the same thing at all, and their transmission rates are all 5Gbps.
The hardware manufacturers have already laid out their molds when the USB Standardization Organization changed its naming systems easily, so it is hard for the manufactures to change the name, therefore caused the naming confusion. USB-IF has also been blamed for this.
Now that USB4 products are available in the market. And the main purpose of launching this standard is that USB-IF wants to change its past mistakes. First of all, from the writing, there is no space between USB and 4. They are connected together, which made it more like a brand.
USB-IF has made it clear that there will be no more complicated version numbers such as 4.0 and 4.1 in USB4.
The protocol is divided into two versions, one is 20Gbps and the other is 40Gbps. In terms of interface form, they all adopted the USB Type-C interface, unlike the past, there are interfaces of A, B, and C of any shape.
data infor from internet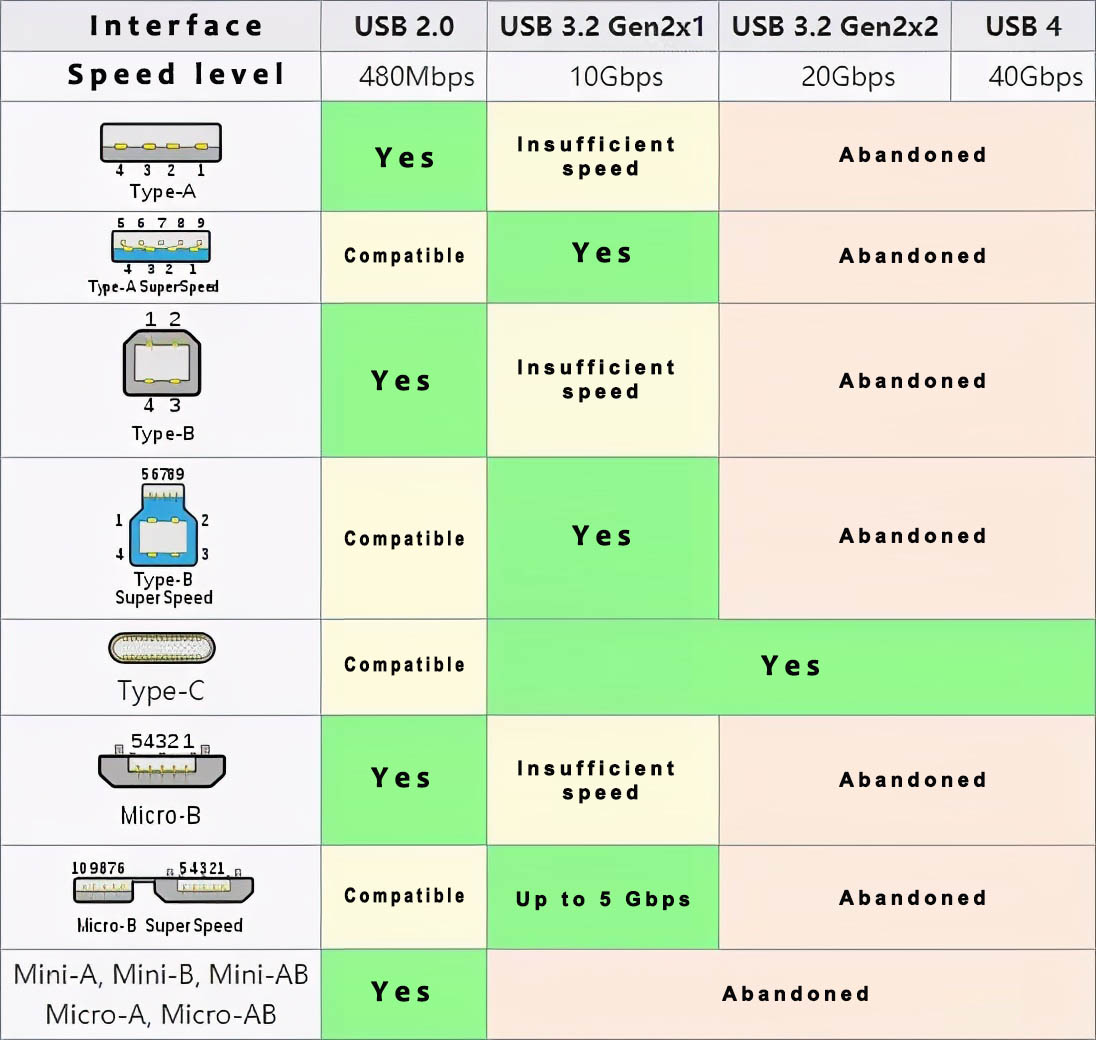 I have to say one more thing here. USB transmission protocol and interface form are two different things. The high-end looking Type-C interface may only support a transmission speed of USB 2.0.
Type B interfaces are rarely seen. Type-A and C are the most common ones today. Most new devices now use Type-C interfaces. The reason is very simple, the flat round interface is smaller in size, and most important importantly is that it can be plugged in both ways.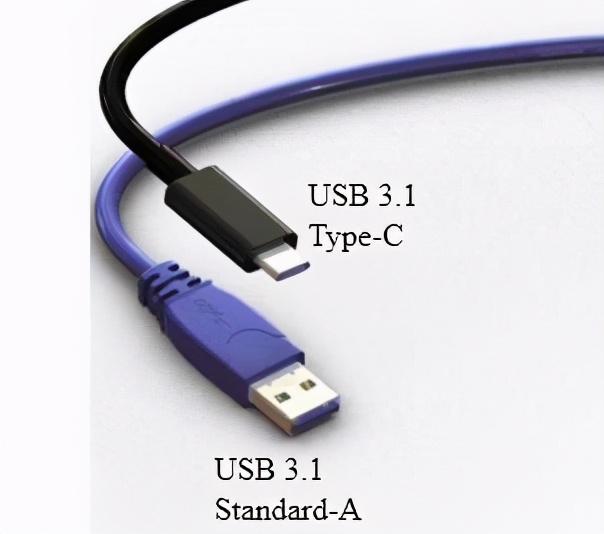 Although the Type-A square interface theoretically has a 50% probability of correct blind insertion, the actual correct rate is far less than this theoretical value.
Due to the deviation of the industrial design, sometimes you need to push really hard to insert in the socket. Therefore, in many cases, because we know that we have a 50% correct rate, we would unconfidently change the direction even when we were right at the first time. And we were wrong again and have to change direction again…This is very annoying.
The USB4 standard unified the interfaces, from now on, there will only be Type-C interface in the future. This is a win-win.
Nowadays, a USB Type-C cable can replace almost all cables. The cable can nail everything from charging, data transmission, or even connecting to a monitor.
This is the purpose of USB4. There is no need to convert A to C or C to A. With just one form of interface, we can truly connect all devices.
Doesn't it sounds so great?
But after the release of USB4 protocol, we will have another trouble. The standard of USB cable will become extremely complicated and very unfriendly to ordinary users.
Although the Type-C interface is very powerful, you can do anything with it, but due to cost and demand considerations, manufacturers may not allow a Type-C cable to support all USB4 protocol content.
Not supporting high current means it can't fast charge a mobile phone. Not supporting large bandwidth means that fast data transmission is not allowed. Not supporting the DP protocol means that the display cannot be connected… However, they look exactly the same in appearance.
As for what agreement the cable is supported inside, we can only know from the seller's promotion and our own mark.
This is probably the biggest problem after the interface forms are unified.