January 16th 2023
Samsung has returned to the SD card market.
At present, the performance of digital cameras is getting stronger and stronger, and the video/photo dual repair shooting performance has been gradually improved. For most people, the demand for large-capacity memory cards is gradually increasing too. A good SD card not only can perform fast video and photo capture, but also has particularly prominent anti-jamming characteristics in certain environments such as anti-magnetic and high temperature resistance, reducing the data security concerns of digital recorders, so that they can devote more energies to the work of recording beautiful images. As a leader in the storage field, Samsung has launched SD card products before. And in October this year, Samsung re-launched two SD memory cards, PRO Plus and EVO Plus, respectively. And this time, Samsung has returned to SD cards market. The company intended to revitalize the SD card market and provide more high-performance options for SLR users, -single users and camcorders. Today, I will discuss Samsung PRO Plus SD memory card with you.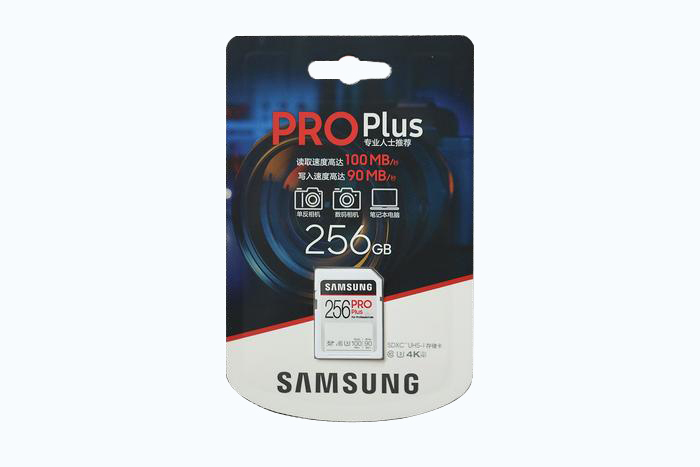 Samsung PRO Plus memory card
Samsung PRO Plus series memory cards provide four capacity specifications, namely 32GB, 64GB, 128GB and 256GB. These four capacity memory cards all use UHS-I SDR104 bus speed mode, which can theoretically reach 208Mhz clock frequency and 104MB/s bus speed. If categorized according to the speed class. Samsung PRO Plus series memory cards are all Class10 U3 level memory cards and support 10,000 insertions and removals.
This time I tested two specifications, the 128GB one and 256GB one, respectively. Samsung 128GB/256GB PRO Plus memory card did not use a fancy design on the outer packaging, but the overall design is still very tasteful. There is a huge PRO Plus series name on the front. After all, it is a brand-new series, so it is still very eye-catching on the product's front cover. Next, there shows the reading and writing speed, applicable products, capacity, product and brand.
Samsung PRO Plus sd card
Some main parameters of the memory card are written on the back of the package. The logo of the 10-year limited warranty, capacity description, and the anti-counterfeiting code and serial number are written on the back package as well.
What's more important is that this series of memory cards have seven protection features such as water resistance, high and low temperature resistance, X-ray resistance, magnetic resistance, impact resistance, drop resistance, and wear resistance.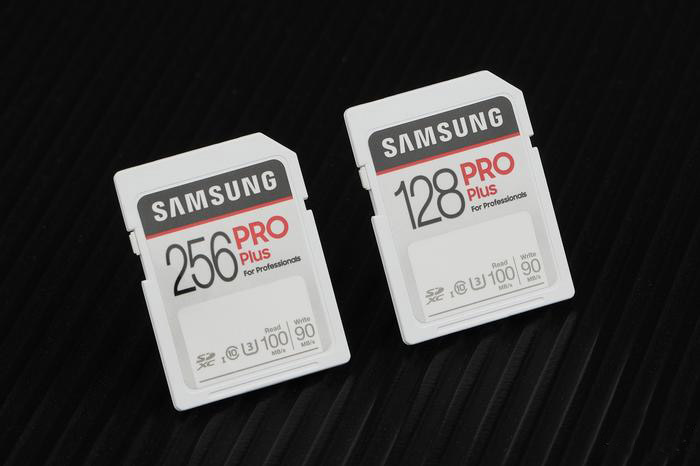 Samsung 128GB/256GB PRO Plus memory card
As the representative of the return of Samsung SD card, the Samsung PRO Plus SD memory card adopts a four-color design of gray, black, red, and white on its front look. Gray is the main color, and the front only has marks including the brand, model capacity, product series, and classification. The information been displayed is quite a lot, but the layout is reasonable, so it still has a good visual effect.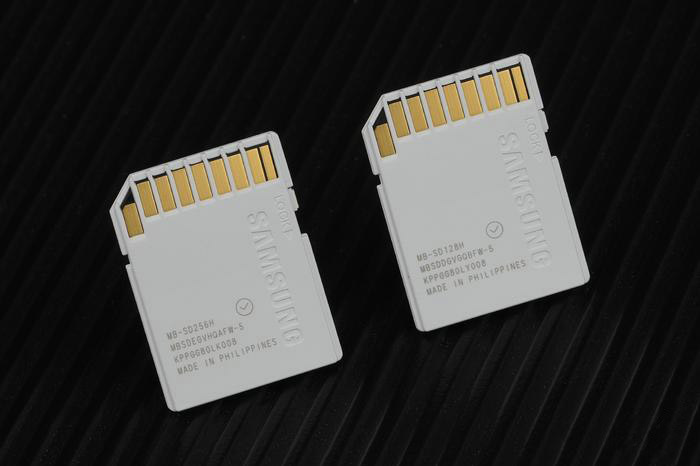 Samsung 128GB/256GB PRO Plus memory card
Because this is a UHS-I type memory card, single row of data contacts (gold fingers) can be seen on the back. It has a surprisingly neat workmanship, and the brand name "SAMSUNG" can also be seen on the back of the product. Manufacture place and anti-counterfeit mark of this card are marked on the bottom of the card.
Samsung 128GB/256GB PRO Plus memory card
The current mainstream digital cameras are all equipped with a dual card slot design, and Samsung 128GB/256GB PRO Plus memory card also targets at professionals, which can well meet the needs of shooting 4K video, full HD video and photo. The maximum storage of 256GB can provide more durable storage for our daily shooting. For example, when shooting 4K 30p UHD video, 256GB capacity can provide 362 minutes of storage.
An actual test of Samsung 128GB/256GB PRO Plus memory card (left: 128GB, right: 256GB)
Atto Disk Benchmark is a tool used to test the performance of storage devices, you can set the size of the file block and the total amount of data. We choose the size of file block to be from 0.5KB to 64MB, and the total data volume is set to 256MB. Through actual testing, the writing speed of Samsung 128GB/256GB PRO Plus memory card is about 83MB/s, and the maximum reading speed is about 92MB/s.
The actual test of Samsung 128GB/256GB PRO Plus memory card (left: 128GB, right: 256GB)
Crystal DiskMark is a relatively mainstream storage device basic performance test tool. It achieves a higher accuracy rate by conduct three tests and take the average value. We use the more common 1GB data volume test here. In this test session, the continuous reading and writing test results of Samsung 128GB/256GB PRO Plus memory card show that its writing speed is about 84MB/s, and the reading speed is about 93MB/s.
The actual test of Samsung 128GB PRO Plus memory card
In the actual FastCopy test, I chose a photo folder with a size of about 10.3GB for the actual test. It contains photos in JPEG format and RAW format, and videos in MOV format, and there are more fragmented files. We can tell from the actual testing that the reading and writing speeds of different capacity versions are almost the same. The time need for writing a 10.3GB file is about 2:16 min, and the average writing speed is about 74MB/s; the time need for reading is about 2:18 min, and the average reading speed is about 79MB/s.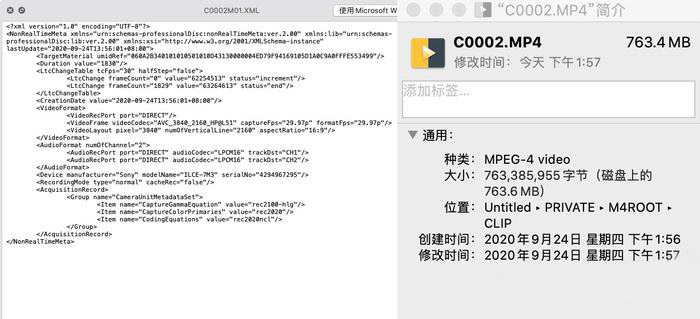 4k 30p real shot test
Next, I used Sony α7 III with Samsung 256GB PRO Plus memory card for video recording. We use 4K 30p 100MB bit rate, and one minute recording time as the test standard. The file size we get was about 764MB. Taking encoding and compression into consideration, there are no problem for Samsung PRO Plus memory card to record 4K video.
Samsung memory card provides a more convenient method of anti-counterfeiting verification, it changed the "anti-counterfeiting laser sticker" to a "software verification". You can easily identify the authenticity by downloading a software from the official website of Samsung Electronics. Please purchase from official flagship store and find the V-shaped logo on the outer packaging of authentic products.
Although the current mainstream SD card specifications have reached UHS-II specifications, there are still many market spaces for UHS-I type memory cards. On the one hand, there are more choices for consumers because the price is moderate. On the other hand, many people do require larger capacity than faster speed; the speed of the Samsung PRO Plus memory card is neither fast nor slow. It can rank top among UHS-I memory card. In addition, it can also support operations such as reading and writing within -25°C~85°C, and store data within -40°C~85°C. It has ultra-high stability and has waterproof, high and low temperature resistant, anti-X-ray, anti-magnetic, anti-impact, anti-drop, anti-wear characteristics. The manufacturer also provides a ten-year warranty service. So, are you ready for Samsung SD card's return?
How to Recover a Micro SD Password
Industrial SD Card & Micro SD Memory Card
The different between SD card and MMC is initialization process. The communication protocol of SD card includes SD bus and SPI.